How clever collaborations help Alpha-H grow
Partnering with artists, designers and influencers has helped this cult beauty brand reach new fans.
Australian skincare brand Alpha-H has long been a beauty editor favourite; its hero exfoliant product Liquid Gold is a regular fixture in magazines, and, around the world, two bottles sell every minute.
As the brand expands worldwide, sales have been steadily growing, with CEO Myles Anceschi saying that sales have grown by more than 25 per cent each year from 2016-2019. (And those figures are pre-pandemic skincare boom.)
But there are always more customers to entice – which is where collaborations can help.
The importance of collaborations
Collaborations are nothing new in the beauty world (consider the perennial trend for celebrity make-up ranges and fragrances). But they are relatively novel in skincare, and Alpha-H has made them a cornerstone of its marketing strategy.
Alpha-H global brand manager Stephanie Forge estimates that 15-25 per cent of the brand's marketing budget is now dedicated to collaborations in one form or another, from partnerships with brands, artists, creatives, media and influencers.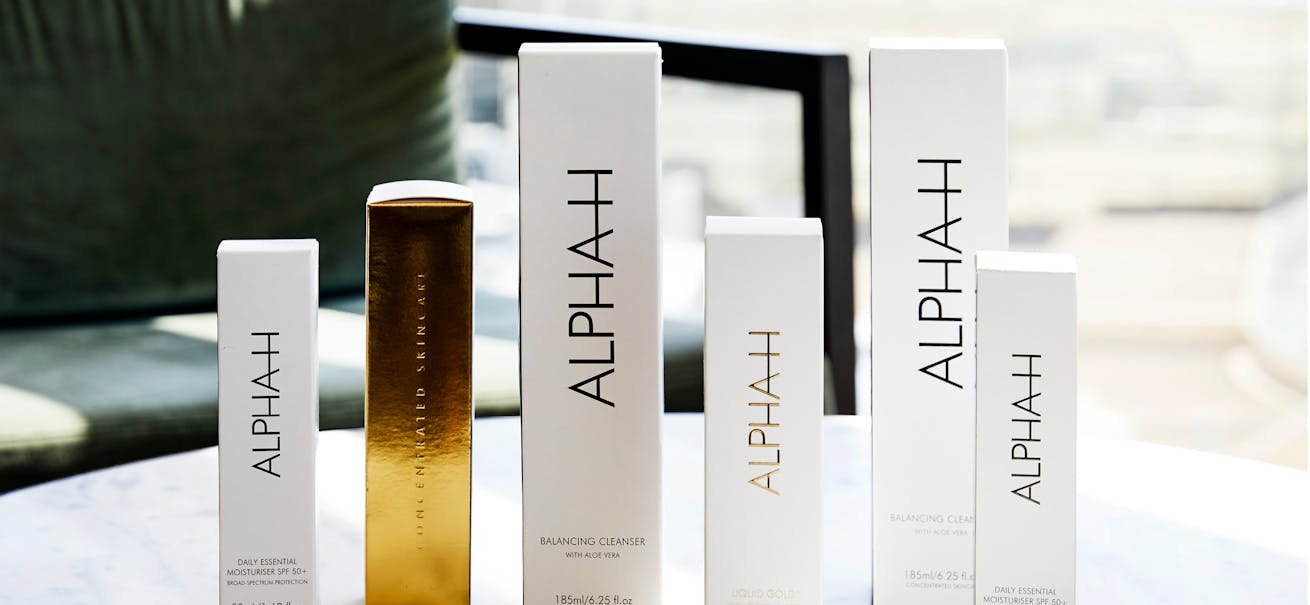 Why? Because they offer Alpha-H the opportunity to reach customers who "may not know about us, may not have shopped with us, or may not be naturally drawn to skincare".
Partnering with artists and designers
Take the recent collaboration with Chinese fashion designer Masha Ma. When Alpha-H launched in the China market last year, the brand knew it would take something special to capture consumers' attention in such a crowded market.
So, Alpha-H commissioned Chinese fashion designer Masha Ma to create a pair of luxe gold earrings, inspired by Liquid Gold, which were then gifted to influencers.
"We wanted something striking and unique to complement beautiful skin," says Forge. "Earrings were a logical statement accessory given their proximity to the face."
The collaboration paid off, generating media coverage and 15 million impressions over three months "cutting through the noise in a super-competitive skincare market", according to Anceschi.
Another recent collaboration involved partnering with Brisbane artist Nicola Jane to create rose-gold illustrations for the brand's limited-edition anniversary kits – a tactic that generated publicity in Australia and the UK.
Influencer and media collaborations
Other collaborations are considerably larger, such as Alpha-H's recent collaboration with dozens of global influencers for the October launch of the Liquid Gold Midnight Reboot Serum.
The brand invited 80 global influencers to attend 'A Gold Night's Sleep', hosting media and influencer events in Sydney, London and virtually in the US "and we staggered some of the influencer partners so that we had coverage coming through for the days and weeks following the launch," says Forge.
The campaign involved months of planning, from approaching influencers – who were identified using an exhaustive list of criteria – to outreach, negotiation, contracts, skin consultations, product trials and content review.
How collaborations come together
While the executions may vary, most Alpha-H collaborations start with the same approach.
"We usually have the moment in mind for the partnership and then seek out the appropriate partner, rather than seeing someone we are keen to work with and then finding a way to make it work," explains Forge. These moments might include a new product launch, a reformulation, a new education message or conversation the brand wants to push, or an anniversary.
Objectives and KPIs are determined at the outset, with each type of partnership shaping how 'success' will be defined.
For example, a media partnership, like the year-long collaboration with women's website Mamamia last year, spanned everything from podcast sponsorship to content and consumer research ("they speak to our target demographic, have a fantastic multi-touchpoint media network and are aligned to many of our values") and placed a priority on customer acquisition and conversion. Other partnerships might be about introducing a new customer to the brand.
Alpha-H CEO Myles Anceschi on how to succeed as a beauty brand
Be clear on what you want to be 'famous' for: Being very good at many things is not as good as being outstanding at one thing. Cut-through is key. Once you have identified your 'thing', stick at it and don't be distracted by incidental opportunities. Stay focused and in your lane.
Be obsessed with innovation and content: New news and fresh messages drive engagement.
Develop partnerships in your supply chain that are enduring: Selling is step four – a robust P&L is driven by good procurement, manufacturing and distribution partners.
Focus on fewer retail distribution partnerships with mutual benefit: Sometimes being everywhere is less effective than being in one place that loves you and is invested in your success.
Sherine Youssef has worked for a range of magazines, including marie claire and The Sunday Telegraph's Stellar, covering beauty.
All references to any registered trademarks are the property of their respective owners. Afterpay does not endorse or recommend any one particular supplier and the information provided is for educational purposes only.