11 ways to help drive more sales with Afterpay
It's one thing to sign up with Afterpay. But to really see the benefits, it's important to let your customers know you have it.
Here at Afterpay, we've seen retailers communicate that they have Afterpay in a range of creative ways – from using digital banners when shoppers first arrive on-site, to weaving Afterpay messaging into their marketing, social media or on their product pages.
And we know that offering Afterpay can drive up average order value, increase incremental sales and attract new customers. So, here are 11 brilliant ways that real retailers are using Afterpay to help drive sales.
Drive conversions on social media
For many retailers, social media acts as a virtual shopfront. A recent report by digital agency Composed found that 60 per cent of Gen Z shoppers in the US use Instagram to discover new brands and products, and more and more consumers are buying straight from social media thanks to shoppable posts and pins.
That's why social media profile pages are a powerful way to let customers (and prospective customers) know you have Afterpay.
Inclusive beauty platform Kanvas Beauty features Afterpay in its Instagram Bio. "We know there are some consumers out there who only pay by Afterpay," says co-founder Anura Logan, who explains that social media is the brand's "best sales generator" and therefore a crucial opportunity to explain that it has Afterpay.
As a new retailer, Logan adds that including Afterpay on the Kanvas Beauty social media page "lends a degree of credibility and trust, as well as protection for the customer".
The approach has paid off. "Offering Afterpay as a payment option has also boosted sales. In any given month, one out of every five sales on Kanvas Beauty uses Afterpay."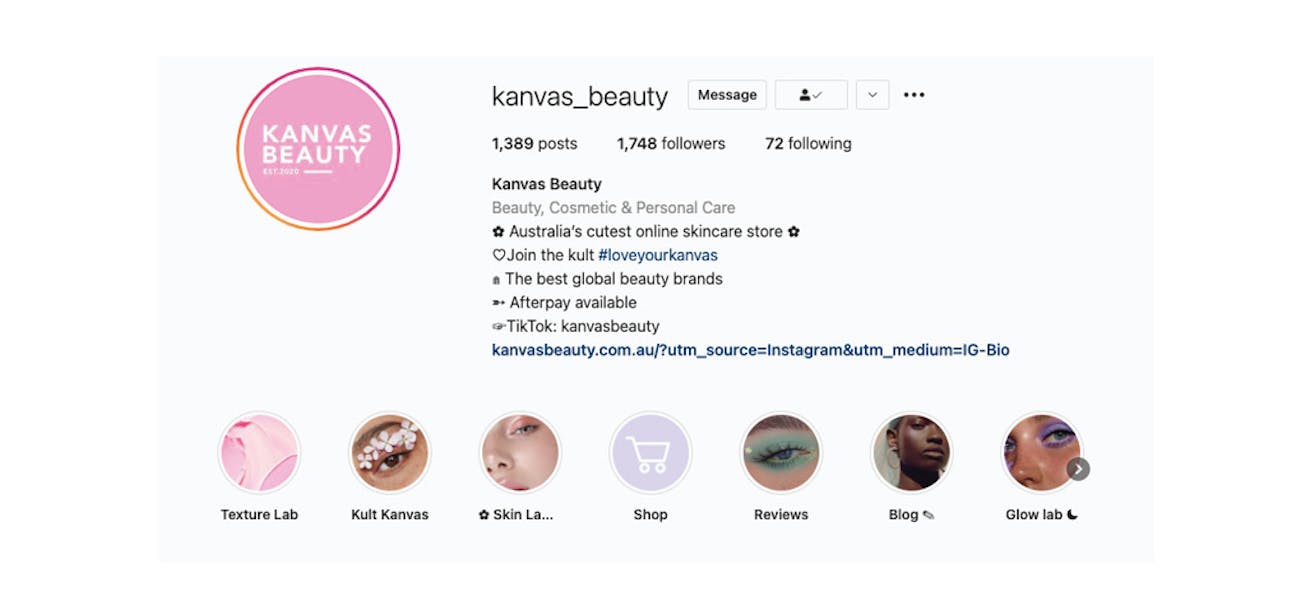 Place Afterpay on your home page
One of the clearest ways to communicate that you have Afterpay is to include it on your home page - and there is a range of possible placements.
Above the fold
Snuggle Hunny Kids features Afterpay in a prominent position, above the fold, on its home page.
Founder Monique Hession chose to feature Afterpay on the home page because "our online chat and contact forms were constantly getting asked if we offered Afterpay".
Showcasing Afterpay on the home page means fewer questions for Snuggle Hunny Kids customer service staff, a more seamless experience for customers – and more sales for the brand. "It has increased our conversion rate as people expect it as a payment option – it's part of the norm now," says Hession. "It's a product and payment option that our customers are looking for, so it's vital to have it as a payment gateway."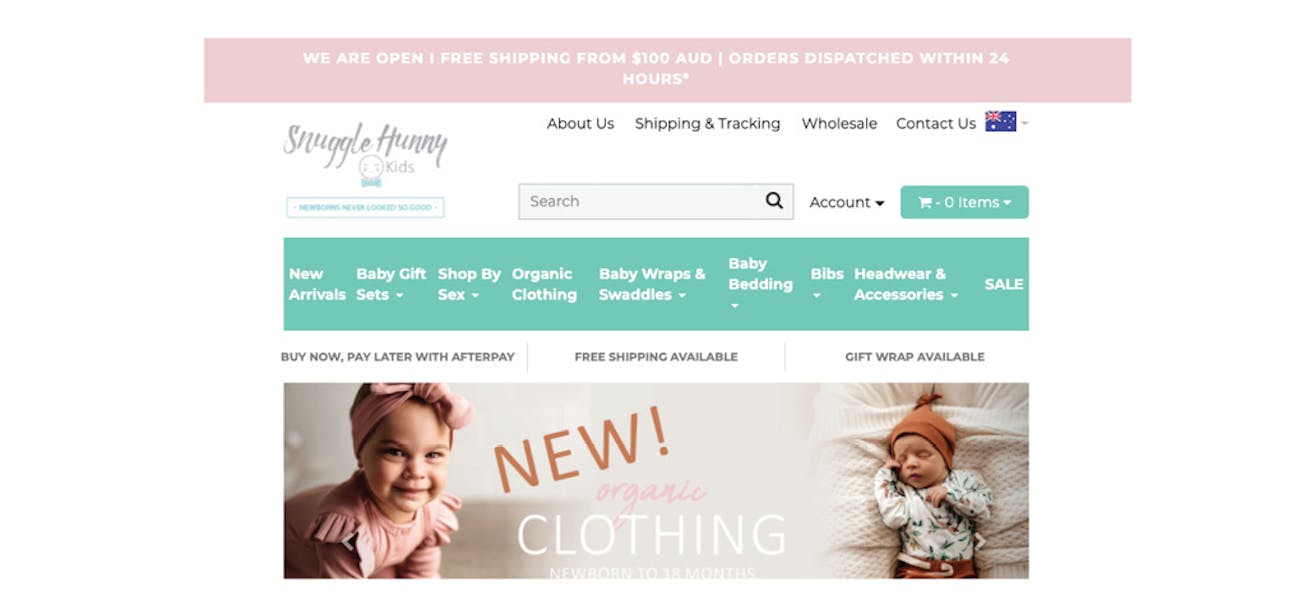 Website footer
Another place to let customers know you have Afterpay? The footer of your website. That's where beauty brand Too Faced highlights its partnership with Afterpay, with customers able to click through to a dedicated landing page to learn more about how Afterpay works. Too Faced has even created a list of frequently asked questions relating to Afterpay.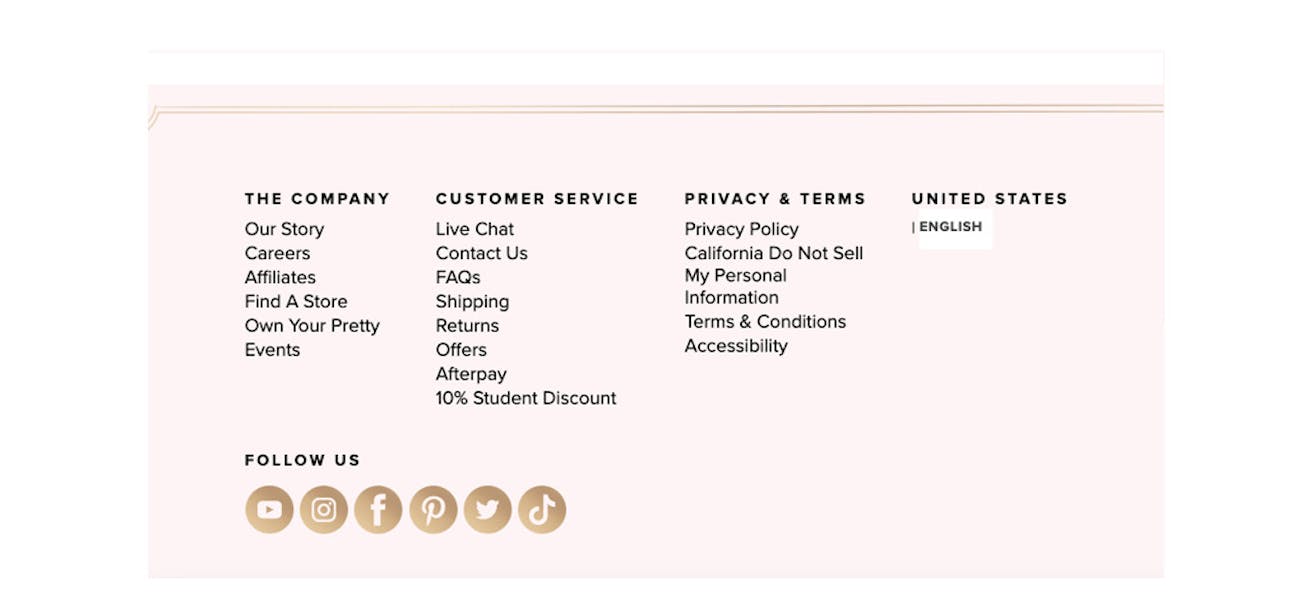 Top strip
Fashion retailer American Giant signals the availability of Afterpay via a rotating top strip at the top of its homepage. This alerts customers to the fact that Afterpay is available from the moment they enter the site.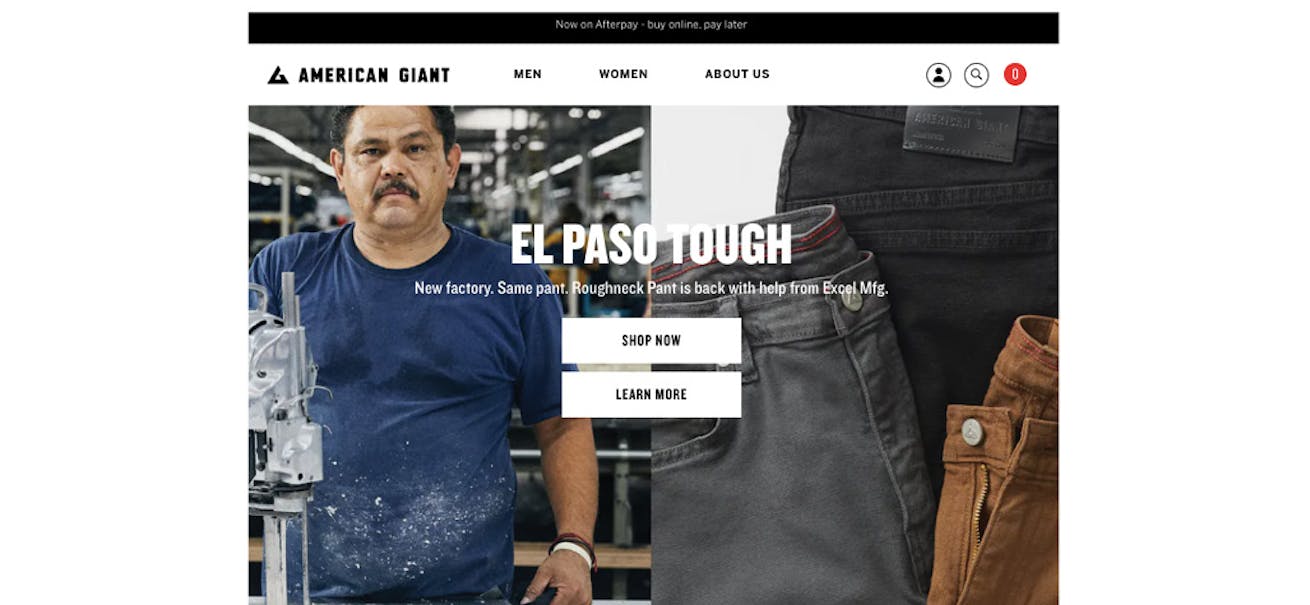 Dedicated module
US clean beauty brand Biossance advertises Afterpay in a dedicated module on its home page.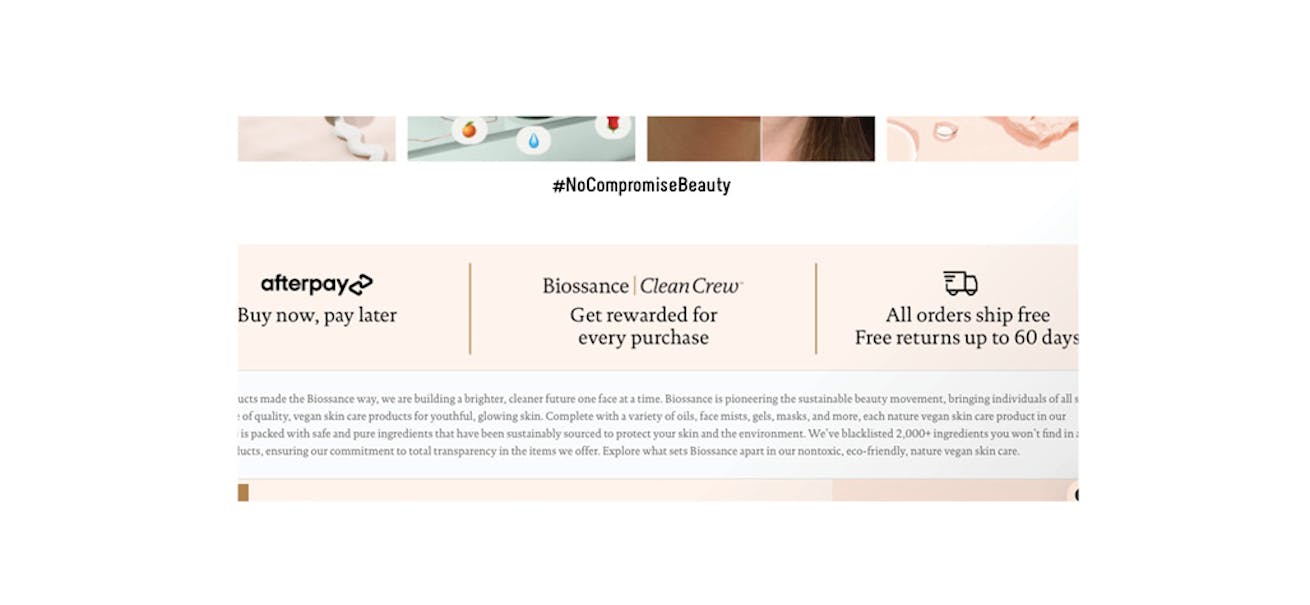 In your newsletter
Many brands include Afterpay branding in their regular e-newsletter.
Bed Threads, which has a subscriber database of 300,000, includes the Afterpay logo at the bottom of its weekly emails.
"We've experimented across other channels with Afterpay messaging versus without Afterpay messaging and find that messaging with [Afterpay] always wins!" says co-founder Genevieve Rosen.
"We use Afterpay messaging across a range of our collateral from email marketing to paid media advertising, website banners to checkout and product pages."
"Being a young, direct-to-consumer e-commerce brand, we have been immensely fortunate to leverage the credibility Afterpay has built with shoppers in our demographic," Rosen continues. "It adds credibility to our service and, above all, a convenience that prospective customers have become accustomed to both in Australia and the US."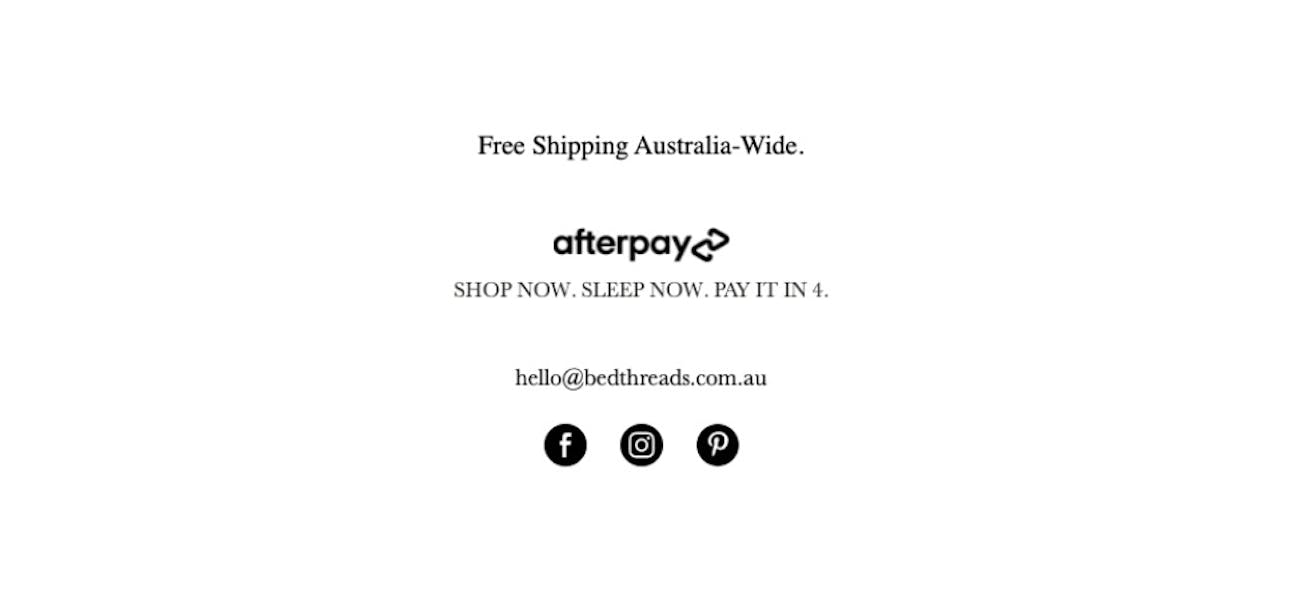 A dedicated email
While regular emails are a great way to remind customers you have Afterpay, another option is to create a dedicated (or solus) email to announce to or remind shoppers that you have Afterpay.
For example, travel brand Webjet sent this email to its subscribers to encourage them to book their next trip.
"Afterpay can be used as a selling technique," says Dominique Greenfield of Afterpay. "It's a way to remind customers that they can get what they want and need now - without compromising their financial wellness, long-term."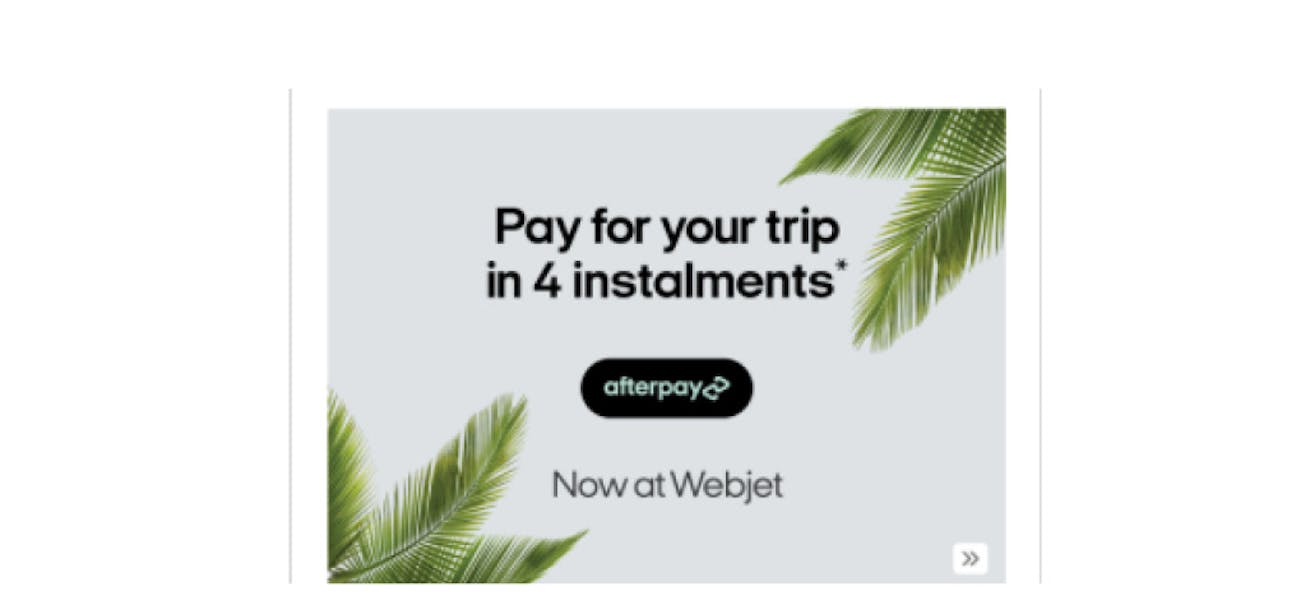 Place Afterpay on product pages
Cart abandonment is a perennial issue for e-commerce brands. One way to reduce friction and ease the path to purchase is by letting customers know you have Afterpay at the crucial moment of consideration.
Beauty brand Emma Lewisham includes the Afterpay logo on product pages, with the widget illustrating exactly how customers can spread their payment over four instalments.
Brand founder Emma Lewisham explains that offering Afterpay has helped the brand attract younger customers. "As soon as we launched Afterpay, the numbers in that 18-25 bracket went through the roof," she says.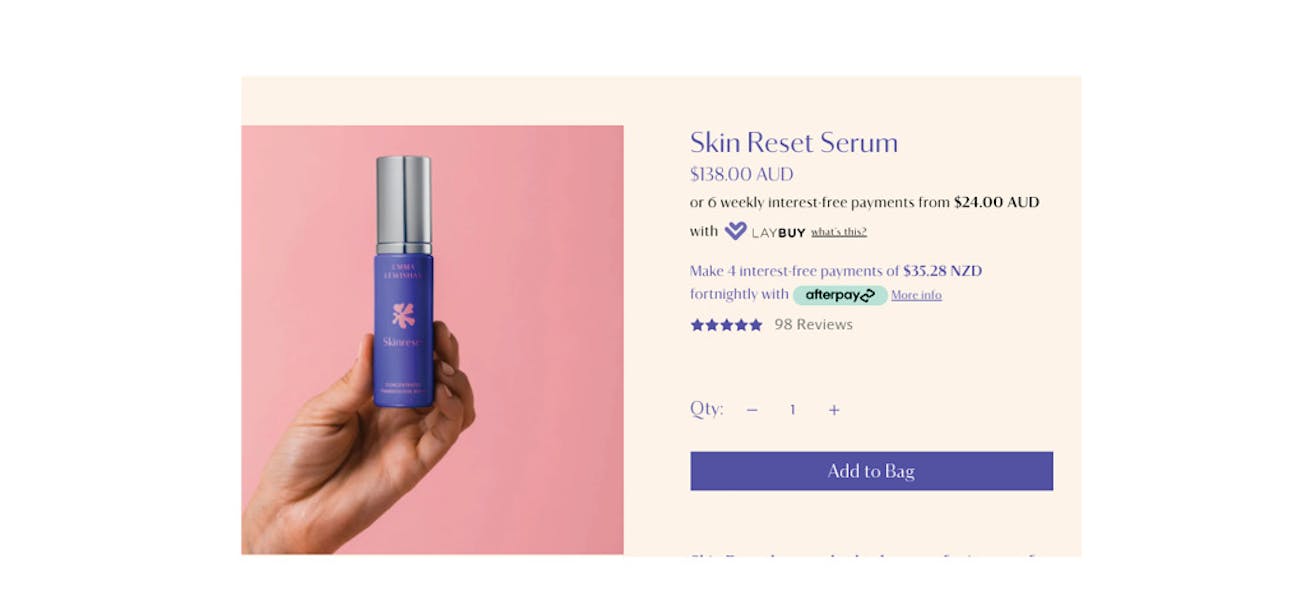 In-store
There are myriad ways in which bricks-and-mortar stores can let shoppers know they have Afterpay.
Decals can advertise to prospective shoppers that you have Afterpay. Fashion boutique Gorman has placed decals on its windows, but floor decals are also available.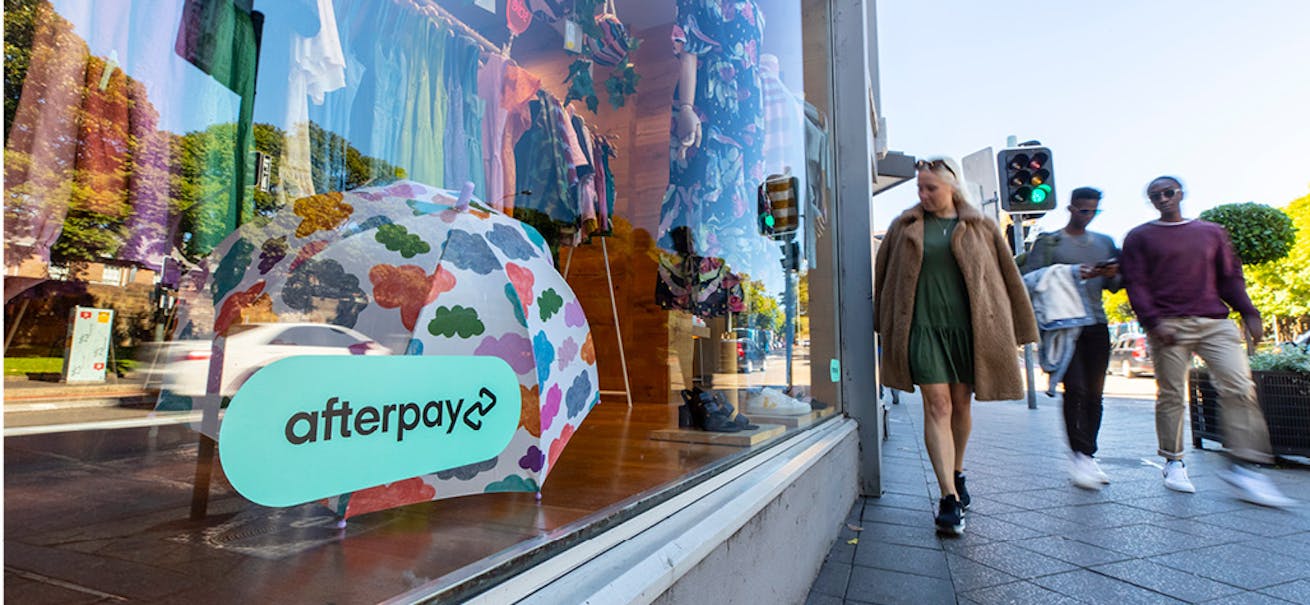 Target spontaneous shoppers and those who are prevaricating over a purchase with in-store point-of-purchase displays reminding shoppers that you have Afterpay can help reduce friction and drive sales.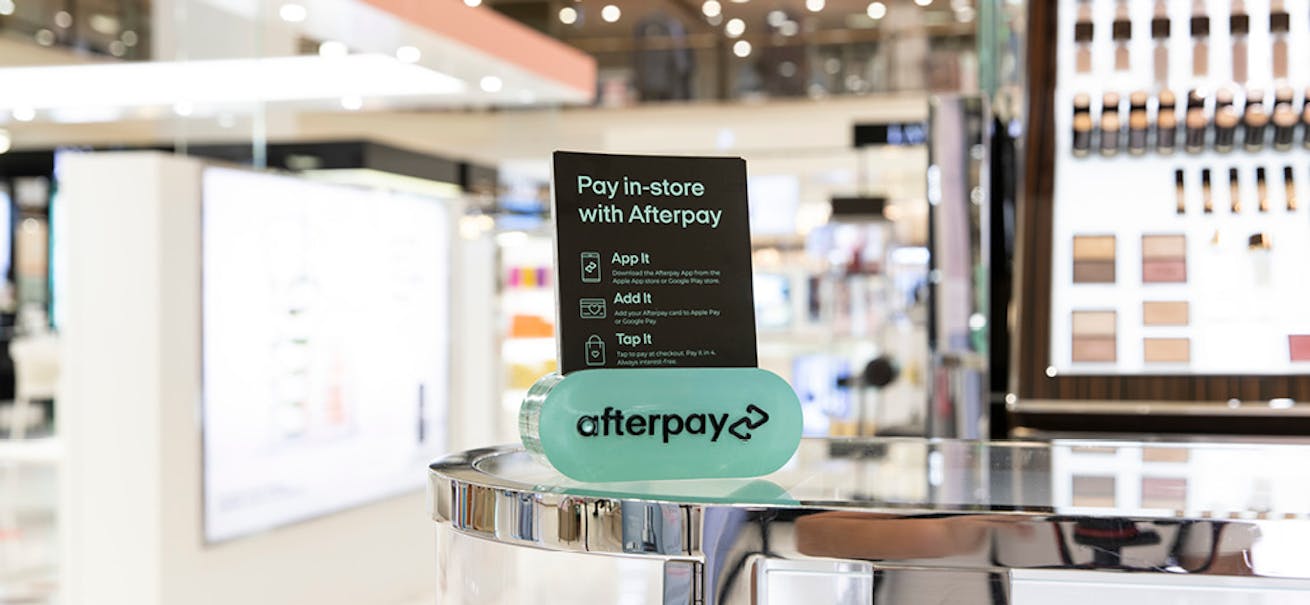 Finally, point-of-sale displays can act as a final prompt – particularly if you're looking to cross-sell or upsell.
Hairdressing salon Suki has Afterpay signage at its cash register, with founder Sandy Chong explaining that the salon carries premium brands such as Dyson and GHD.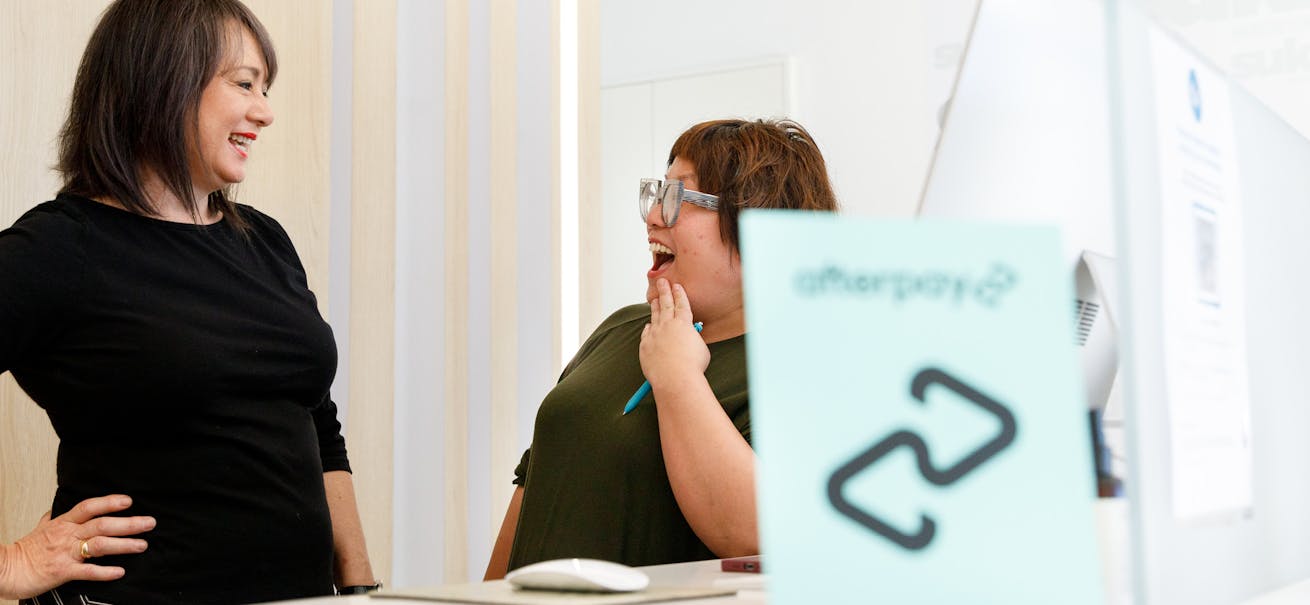 "The Afterpay signage allows customers to think about purchasing via buy now and pay later, versus a client thinking they have to 'save up' and we potentially lose a sale," says Sandy. "As Suki is a destination salon, servicing our clients includes making every visit easy for them to purchase while they are there."
For more tips on how to use Afterpay to drive sales – and to download digital and in-store assets - visit Afterpay's retailer resources.
All references to any registered trademarks are the property of their respective owners. Afterpay does not endorse or recommend any one particular supplier and the information provided is for educational purposes only.