How Emma Lewisham successfully sells a sense of purpose
The secret to this New Zealand beauty brand's success? High-quality products – and a determination to make recycling easy
It was a chance conversation with her doctor that sparked Emma Lewisham's passion for natural, sustainable beauty.
"I was using an ingredient for hyperpigmentation and my doctor informed me that that particular ingredient was controversial and had been banned in multiple countries," she says.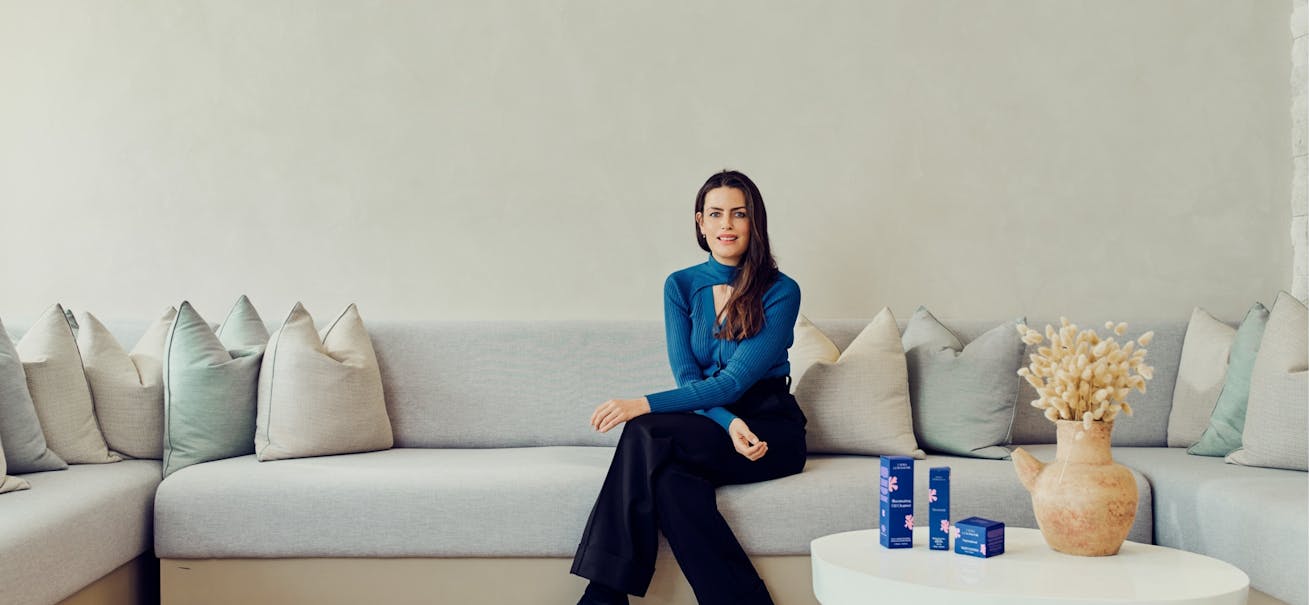 So, Lewisham embarked on a search to find natural skincare products that delivered the results luxury skincare brands could offer.
Not only did her search prove fruitless, but along the way she was amazed to discover the enormous volume of packaging waste generated by the beauty industry.
So the New Zealander vowed to create beauty products that solved both issues – and three years later, after rigorous testing, her distinctive skincare brand is experiencing soaring growth. It is stocked in department stores across Australasia (including at David Jones, where it has beat out big-name global brands to become a top five bestseller); loved by celebrities including Victoria's Secret models Irina Shayk and Georgia Fowler; and has now launched in the US and the UK.
Selling a sense of purpose
Lewisham believes the success of the brand comes down to the high quality of its ingredients and the clarity of its messaging around sustainability.
"

You've got to be in the game to change it

"

- Emma Lewisham, founder of Emma Lewisham Skincare
"The original idea of the brand was not just about selling products but about changing the beauty model," says Lewisham, explaining that billions of empty beauty containers are sent to landfill every year because they can't be recycled in kerbside collections.
"From the get-go, we were very focused on that, and I think we've been really successful in being clear about what we stand for," she says. "And yes, we've got to be commercially successful – you've got to be in the game to change it – but we believe [our focus on sustainability] will only drive up volumes and growth."
Making sustainability easy
A key part of that sustainability mission is the brand's recycling program. Operated in partnership with TerraCycle, the Emma Lewisham Beauty Circle allows customers to return used containers to be recycled.
Originally, the brand offered a $NZD15 voucher to incentivise customers. Today, all customers are instead given a free return label with every package.
"

It's about balancing the three Ps: profit, people and planet

"

- Emma Lewisham, founder of Emma Lewisham Skincare
"We make it easy, because we know from research that to make sustainable initiatives scalable and mainstream they need to be easy for people to engage with," says Lewisham.
Asking customers to print labels was a "burden that put people off" says Lewisham, who explains that the scheme does come at a cost for the brand. "But it's about balancing the three Ps: profit, people and planet."
Since the Beauty Circle began, similar schemes have been launched at David Jones and other beauty retailers.
The brand has also designed refillable containers whereby the inner component of, say, a bottle can be removed when it's empty and returned to the brand for sterilisation and reuse or secondary recycling. A full inner can then be bought online.
"I predict [refillable containers] will be the biggest trend in [beauty] in the next five years," says Lewisham. "We're just ahead of the curve."
Being transparent
It's one thing to offer sustainable initiatives, but from the beginning Emma has sought to communicate them as clearly and transparently as possible.
The brand publishes a full list of banned ingredients on its website; all ingredients are listed on products in scientific terms and plain English, and its commitment to sustainability is prominent on its home page.
As more consumers demand sustainable products, Lewisham says that transparency will only become more critical. She is dismissive of beauty brands, for example, that promote their products as "recyclable" when in reality they can only be recycled through specialist schemes rather than kerbside collections.
"I think that's truly irresponsible," says Lewisham, who explains that until advertising regulations are tightened, being transparent with customers is the best way to distinguish her brand from less authentically environmental competitors.
Being distinctive and accessible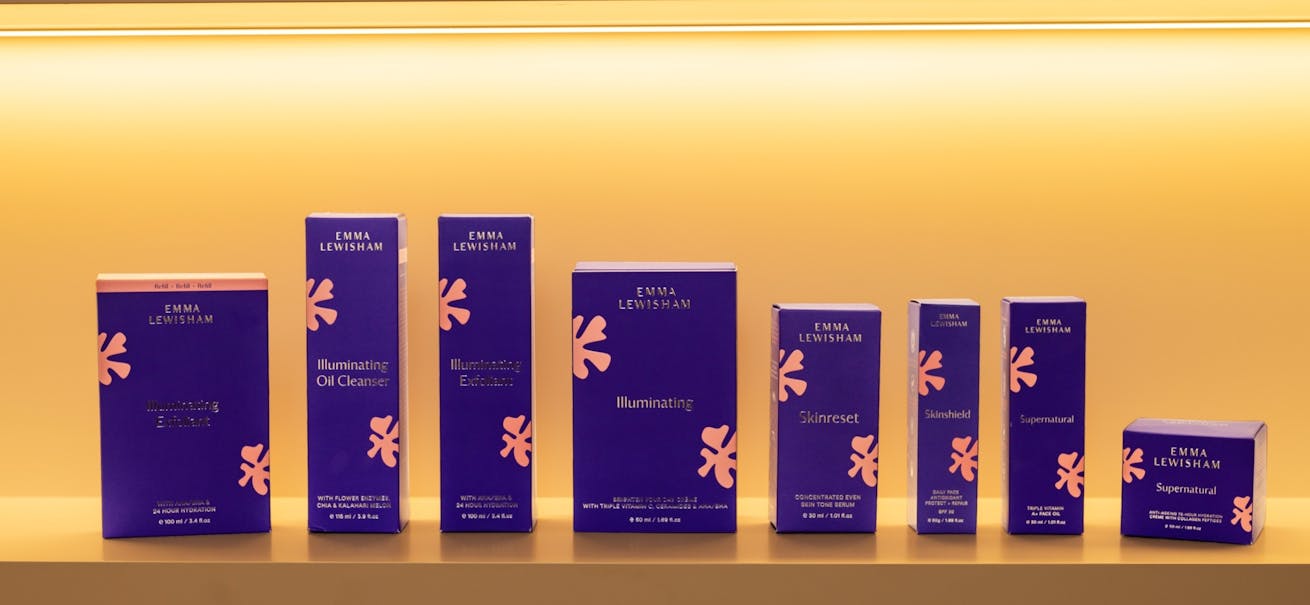 Lewisham describes her products as luxurious but accessible – and says this philosophy extends to the appearance of the products. "Our packaging is very distinctive," she says. "[Before we launched] we went into beauty stores and had a look around to see what colour wasn't on the shelves." The result? Bright, attention-grabbing, purple packaging that helps the brand stand out on the shelves and on social media.
"

We're not 'too cool for school', our brand is one that's open and kind

"

- Emma Lewisham, founder of Emma Lewisham Skincare
"We're not 'too cool for school'," she continues. "People don't feel we're a superior brand. It's one that's open and kind."
Offering accessible payment options
Part of Emma Lewisham's commitment to accessibility is offering Afterpay. "Listening and responding to our customer is really important to me," says Lewisham, who has detailed systems and spreadsheets in place to track customer feedback.
"The reason we knew [to launch] Afterpay was because we listened to our customers… and we could see that feedback coming through."
Lewisham adds that Afterpay has helped grow the business by making the products – which retail for between $AUD76 and $AUD138 – more accessible to younger people in particular. "As soon as we launched, the number in the 18-25 bracket went through the roof."
"

The purpose of the brand is to leave the world better than we found it

"

- Emma Lewisham, founder of Emma Lewisham Skincare
For now, the brand is focused on Australia and New Zealand, although Lewisham says that the US is already its third biggest market. With a successful David Jones partnership underway, Lewisham says she is looking to other partners to expand the brand.
But wherever she opens, the founder says that sustainability will remain at the heart of the business. "The purpose of the brand is to leave the world better than we found it," she says.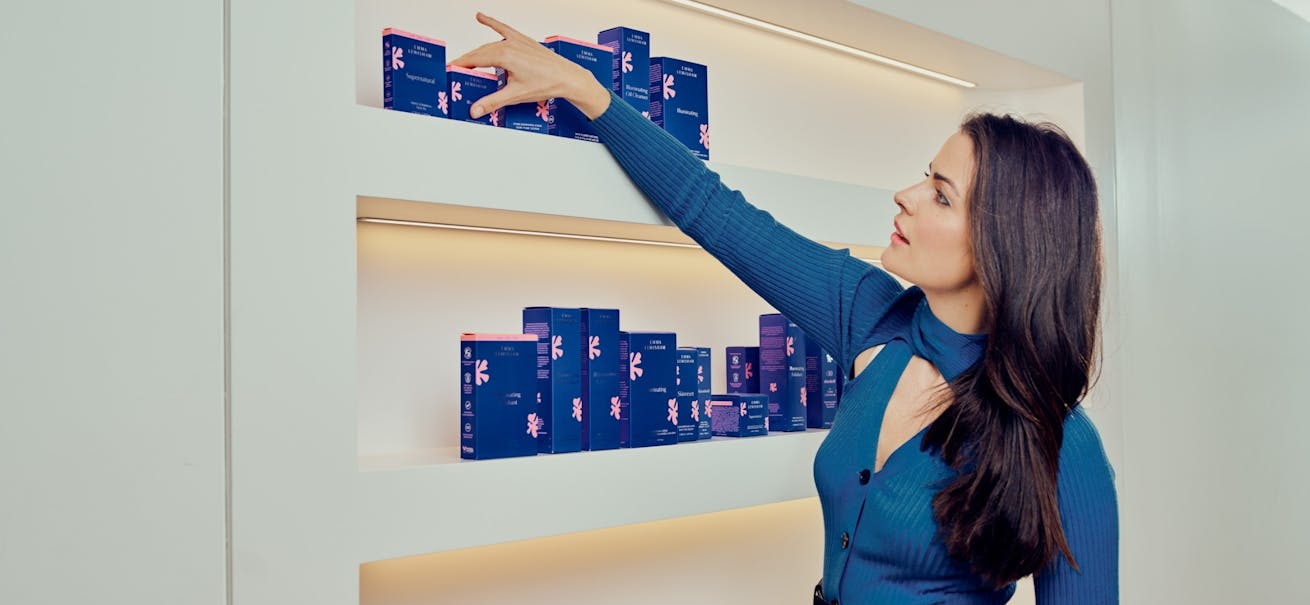 Emma Lewisham's top tips for business success
Identify a mission that's bigger than you "It will keep you going and keep your team going. Otherwise you could crumble under the pressure and the fast pace of it all."
Trust your gut Especially when working with external suppliers, says Lewisham, who worked with one supplier who was unable to deliver on their promises. "And I knew it, and I should have tuned in and listened to my gut instinct."
Be unique "When we went to market there were a lot of products on brightening but not a lot on pigmentation," recalls Lewisham, explaining that the brand's hero product, Skin Reset Serum, was aimed at reducing hyperpigmentation.
Anna Saunders is the former executive editor of marie claire, and the co-founder of PRIMER and content agency studio PRIMER.
All references to any registered trademarks are the property of their respective owners. Afterpay does not endorse or recommend any one particular supplier and the information provided is for educational purposes only.