How St Agni built their brand on Instagram
When Lara Bluett and Matt Fells were tossing around ideas for a business in early 2013, their first thought was a café. The couple, who both had extensive experience in retail and a head for business, loved the idea of serving people coffee in laidback Byron Bay.
"But after looking at it closely, we realised the overheads were just too big" says Lara. Instead, they decided to start small. "We started with bags" says Matt of their first foray into online commerce. "Lara was the manager at a Witchery store, so we thought we'd just make a few different styles of bags and sell them from our website."
Fast forward six years and St Agni (named after Lara's grandmother, Agni) has their own bricks and mortar store in Bryon Bay and in Brisbane's James Street and sells not just bags but handmade leather footwear, fashion and accessories through stockists including Harvey Nichols, Bloomingdales and David Jones.
What began as a side business for the pair, who worked nights and weekends while still at their day jobs until 2017, has now blossomed into a brand with a staff of 17, with a revenue increase of 6000 per cent since 2014.
The company averages 1000 orders a month from their e-store. "Growth happened really organically" says Lara. "We started with bags and the next year we introduced one style of sandals that sold well so we expanded the offering the following year."
The couple opened up an Instagram account and a website. "But we didn't invest anything into marketing or PR or anything like that." Instead, says Lara, they focused on posting strong, visually beautiful content that was authentic and accessible. "Initially we posted every few days or once a day, we now try to post twice a day" says Lara. "At the beginning we shot a lot of our own content". But as their business began to grow, they invested in quality photographers and models.
It worked.
"We got our first stockist through Instagram" says Lara but adds that in the early days, they engaged a few influencers as well. "After we hit 10,000 followers, the influencers started approaching us." Today their Instagram has a following of over 150,000.
"It took us about three years to get to 10,000 followers, but once we reached 10,000, we started going up steadily" says Lara of St Agni's followers, whose tastes seem to have grown along with the company. "Initially our top performing posts were of the Woven shoes. Now our top performing posts seem to be apparel pictures. Our followers respond well to natural looking models they can relate to."
But, she adds, the biggest spike in sales occurs when an influencer posts something from the store they genuinely love.
In recent months, St Agni's established online presence has been a key factor in helping them weather the global pandemic, as the vast majority of sales are taking place online.
They added their understated fashion line three years ago. "We had just opened our first boutique and we wanted to offer our customers a full St. Agni look. The first apparel collection was made completely of linen and very simple shapes."
But as clear-cut as their success may seem, the journey from side hustle to world domination has not been without difficulty. "We've had some spectacular failures," says Lara. "But it's the mistakes that we've made that have taught us the best lessons." One such lesson: fashion plagiarism. "When we started making our shoes, we found a lot of copycats," says Lara of their Insta-famous woven loafers and heels beloved by the fashion set and everywhere on Instagram.
"

We've had some spectacular failures, but it's the mistakes that we've made that have taught us the best lessons

"

- Lara Bluett, Co-founder, St Agni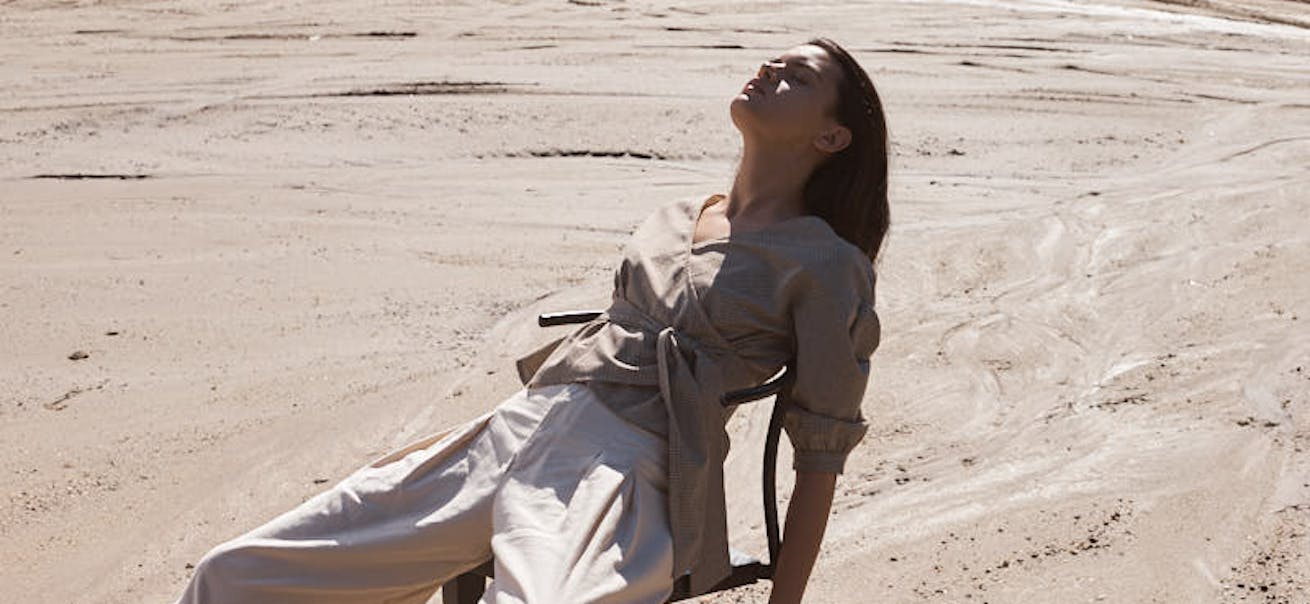 "The woven style was inspired by the traditional Indian Kolhapuri Buntos. We wanted to create a design based on a contemporary take of the shoe and make them accessible for the modern woman."
Unfortunately, so did a lot of other retailers. "The problem was that we couldn't keep up with demand, so while we were out of stock, other retailers were trying to sell the same design."
"We had a choice," says Lara. "We could either try to pursue it legally and get swept up in the negativity or we could just focus on doing better and growing the business." They chose the latter. It's now one of their core values. "Just keep doing your thing, and make sure it's the best it can be and stay focused on that – it's advice we live by," says Lara.
Another core value? Don't give up on your original goals. Last year, the couple, who now have a two-year-old son, Jude, expanded their pristine, minimalist aesthetic to include a café and Airbnb, fitted out in the same understated luxe style. "We want St Agni to be a holistic, immersive experience," says Lara. "But the store will still be our focus – we'll let the experts make the coffee."
Natalie Reilly is a freelance journalist who has written for the Sydney Morning Herald, The Age and Vogue.
All references to any registered trademarks are the property of their respective owners. Afterpay does not endorse or recommend any one particular supplier and the information provided is for educational purposes only.