How to build an email list from scratch – 16 tips and strategies
You've built a decent social following, and you're hitting your impression counts, so is it really worth dedicating your precious time to building an email list?
If you want to increase your sales and develop a loyal following, then yes, says brand consultant Emma Sharley, who has worked with the likes of Westfield, Nobody Denim and Le Specs.
"[With email marketing] you have a direct, one-on-one channel to the customer, and you own your database," Sharley says, which makes the email list immune to things like algorithms that can play havoc with social media followings.
"

Email is more than just a sales driver – it's where you can engage customers, tell a story about your brand and develop a relationship with them.

"

- Emma Sharley, Brand consultant
"For the clients we've worked with," she continues, "email is the top channel in terms of conversion, but it's more than just a sales driver – it's where you can engage customers, tell a story about your brand and develop a relationship with them. It's the perfect opportunity to showcase who you are, and you can start small and build over time."
Where, exactly, do you start?
1. Pay attention to pop ups
There are endless options for pop-ups and how to time when they appear, but for Ava Chandler-Matthews, co-founder of cult sunscreen brand Ultra Violette, the look and feel is the top priority.
"We made sure ours felt on brand visually and had our tone of voice, because we didn't want it to look spammy," says Chandler-Matthews.
Consider what might convince your ideal customer to sign up, suggests Sharley, as well as your brand positioning: a brand that wants to be seen as luxury won't offer a discount, for example. "[A discount of] $10 off doesn't really cut through anymore".
She adds, "don't have pop-ups on every page, because that feels like you're being spammed," and advocates for transparency about what users are signing up to – will you be sending weekly, monthly or sporadic emails?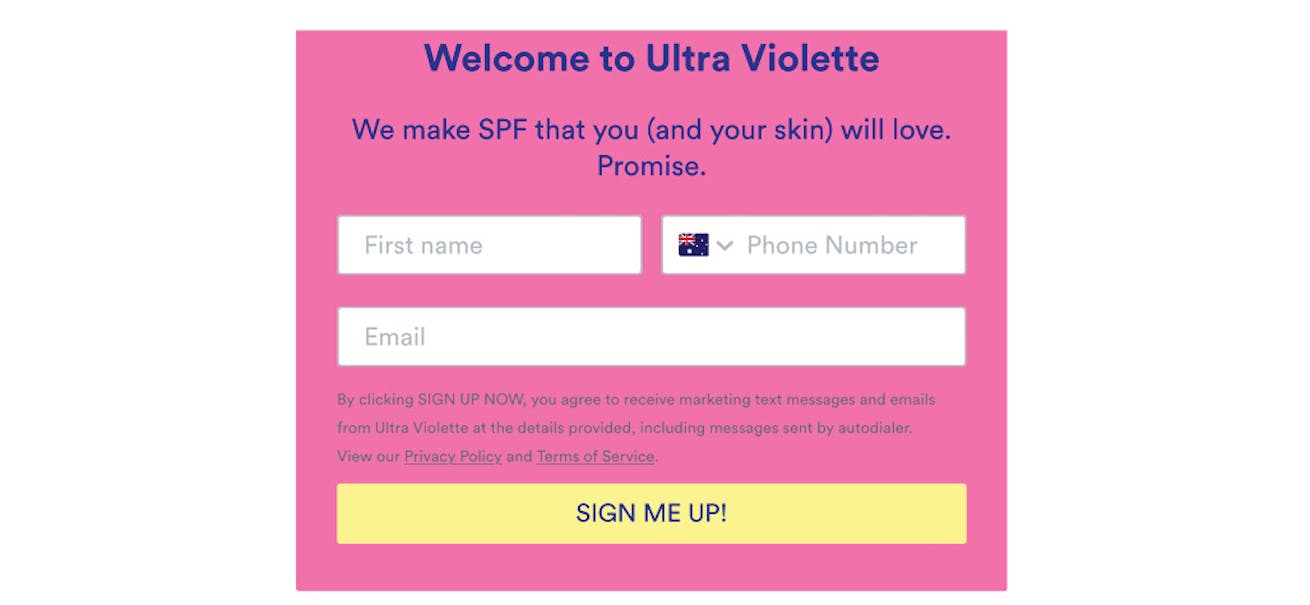 2. Polish your on-page sign-ups
On-page sign-ups – which are built into the content on your website and sit there permanently, unlike pop-ups that appear and then disappear – are a different story. These you can have on every page, says Sharley.
"Make it easy for people, but make sure they're subtle and in context, too."
Depending on what page it is, your sign-up call to action (CTA) could offer people sale previews, vouchers or a deep dive into what products you're offering.
Women's fashion brand Reformation has their on-page sign-up high on the page, with casual, conversational copy that invites customers to be an insider ("Get the scoop on all things Ref, including sales and new stuff").
3. Start a competition
Offering discounts can work for some brands, but Ultra Violette chooses to go with higher-value competitions instead. "We engaged with an app called Viral Sweep, which created a competition to win a year's worth of sunscreen. Rather than increasing Instagram followers, it drives people to sign up to your email list and the results were really impressive," says Chandler-Matthews.
4. Don't forget the after-purchase
It's simple, which is why it's often overlooked, but the tick-box that opts people into your list (most people do opt-in, says Chandler-Matthews) or gives them the chance to create an account instead of checking out as a guest is valuable.
"Is there something more you can offer them once they've purchased, like exclusive content, a bonus experience or a discount for their next purchase?" asks Sharley, while cautioning, "you need to make sure that you're telling them the benefits of creating an account, otherwise they may just think they'll be spammed".
5. Partner with other brands for giveaways
Approach like-minded brands (or mine your customer research data to find out where your market is also buying) to collaborate on competitions and giveaways, and you can both significantly increase your lists.
"Our collaboration with Frank Body and Mejuri did really well for us," says Chandler-Matthews. "We created a separate landing page to send people to from social media; when they signed up, they opted in for both our email lists. We want to give back to people and don't just want to be spamming them, and giveaways are a nice way to do that."
6. Drum up pre-launch interest
Whether you're a product or service-based business, if you have a new offering launching soon that you know people will be excited about, capitalise on that interest by encouraging sign-ups ("find out more!").
For example, you could offer updates ("be the first to know!") or early entry to a pre-sale. Create a separate landing page for it, too, so you can easily link to it from social media and Linktree, making it easier for people and creating another opportunity to sign them up.
7. Offer a freebie
Create free content that your target market will likely want to get their hands on immediately, says Sharley, and you'll tap into a whole new set of contacts.
"

Understand why they're coming to you and then tailor your content accordingly.

"

- Emma Sharley
"Ideally you've done some market research and know who the customer is – you want to understand why they're coming to you and then tailor your content accordingly."
Creating an e-book, PDF, masterclass, course, or interview series to drive sign-ups is known as a lead-magnet strategy.
You can continue to add content to your library, capturing emails for each piece people download (each freebie should have its own landing page that you can link to – landing pages focus on one thing only, which leads to higher conversion rates, and they're easy to link to from your other channels).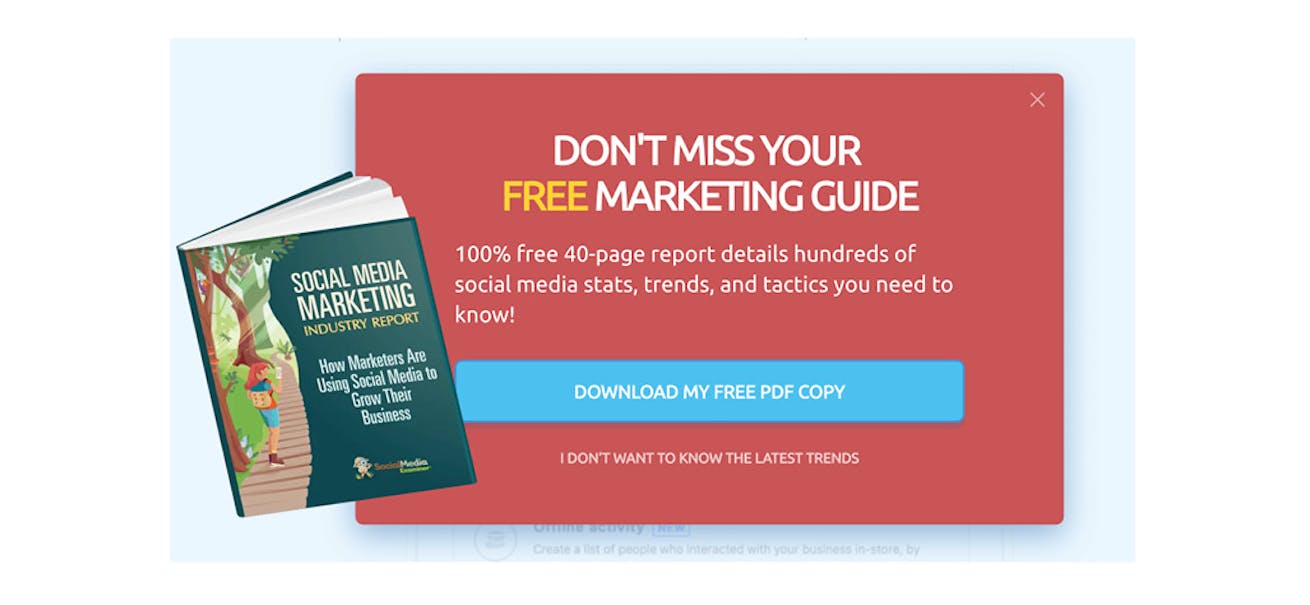 8. Invest in paid social media
"It's important to do an audit of where your audience is engaging with you, so you can see where they might be willing to then sign up," says Sharley.
Paid ads on Facebook and Instagram can offer strong returns, particularly when you target people who have already visited your website (which you can do in the 'custom audience' section), or when you run the ads in conjunction with a competition, lead magnet or discount.
"Make sure there is a strong value-add that they're receiving in return for giving over their email address," says Sharley.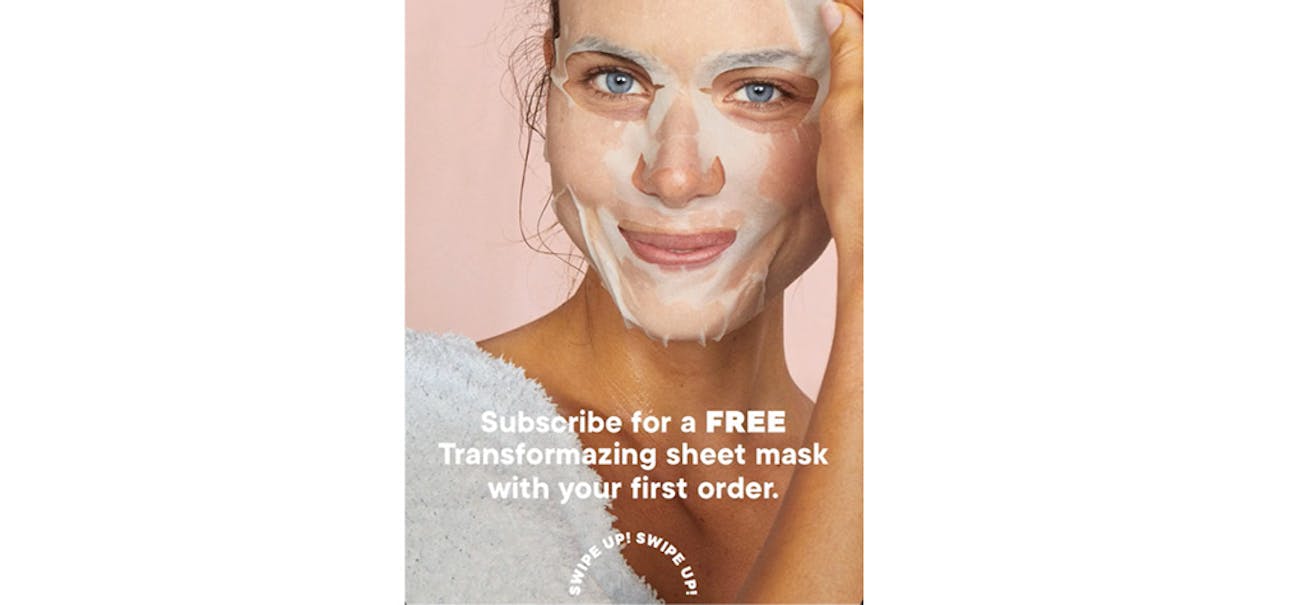 9. Create experiences
"Experiences or events, whether they're virtual or physical, can provide a really lovely way for people to engage with your brand, and offer an opportunity to capture email addresses en masse," says Sharley.
Whether it's a webinar or masterclass on Zoom, or an in-person experience, make it exclusive to subscribers. "The most important thing to think about is where does it feel natural for your brand and how can you capitalise on that, so it doesn't just feel like a sales tactic."
10. Turn it into a game
Gamification is a fun way to attract potential customers who are weary of standard pop-ups that appear on most sites: spin to win an incentive, for example, using software like Optinmonster, and Omnisend's Wheel of Fortune are tempting, while Sharley is a fan of layering referrals into gamifications.
"A simple example is where your customers reach certain spend limits that then unlock particular rewards for both them and their friends who, when they get a referral code, can receive a discount."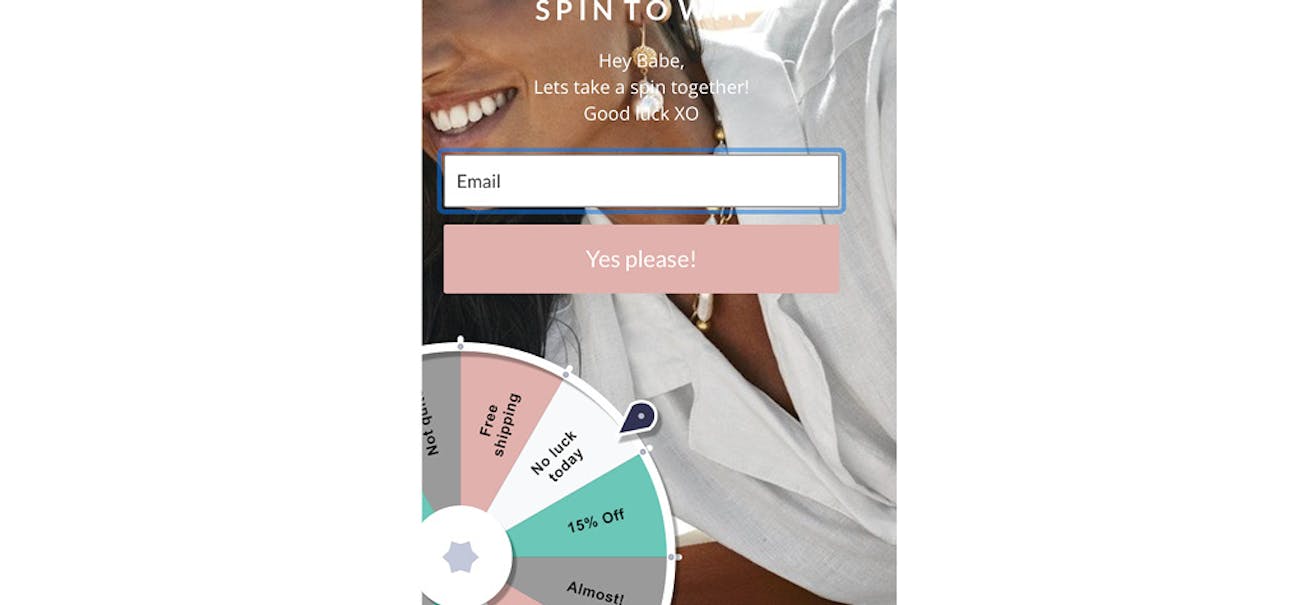 11. Ramp up referrals
Word of mouth is always powerful, but unless they're a superfan, most people will need a little encouragement to spread their positive opinion. Referral programs like Smile and FriendBuy incentivise customers to pass on codes, which offer them and a friend a discount. Again, referral marketing programs often work best when layered with a competition, discount, lead magnet or incentive.
12. Expand your social posts
Think of social media as the entrée, then offer the main course to subscribers. "When you have a social media strategy being deployed across Instagram, plan for something more that the customer could access from [signing up to] emails, like an interview series with experts, or bespoke product for subscribers that has come from an influencer campaign," says Sharley. "Always think about how you can tailor sign-up incentives to fit in with what you're doing more broadly, and what value you can offer to people from signing up."
13. Be careful with your content
"You need to keep in mind that you're talking to individual people; it's easy to develop a content schedule and just drop it into a template, [but] that's where it starts to lose relevance," says Sharley.
"

Make sure that your content is conversational, inviting and human, not just a shipped-out piece of information

"

- Emma Sharley
"Think of it as building a relationship and having a one-on-one conversation – you might be having a coffee, you might be at the supermarket together – and make sure that [your content is] conversational, inviting and human, not just a shipped-out piece of information." This is where engaging content, done right from the start, goes beyond email acquisition and it fits into brand loyalty. "It's a fantastic medium, and a combination of analytics and creativity – you need to be testing content performance and subject lines and not be afraid to test new themes and new ideas."
14. Optimise your Linktree
Are you using your Linktree (or Milkshake or Tap Bio) on your Insta to its full potential? These apps allow social media followers to click on your link in a bio and be taken through to various pages on your website.
They are an often-overlooked opportunity to drive email sign-ups. Similarly, if your business has a Facebook Group, why not collect email addresses before new members are admitted to the group?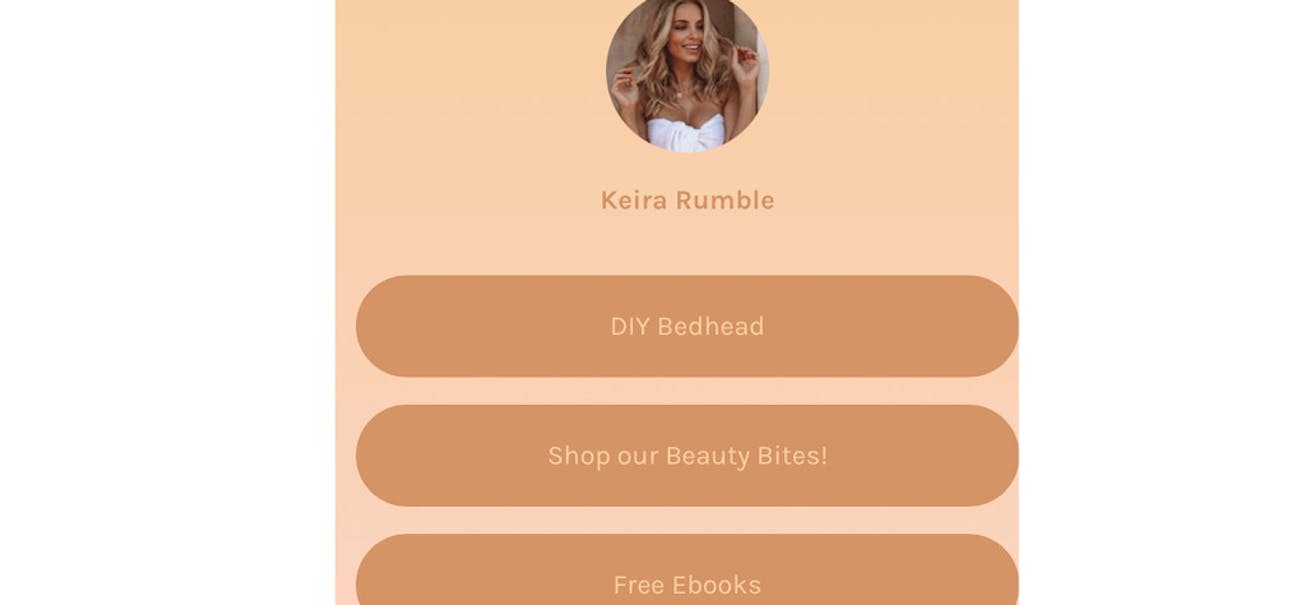 15. Inviting customers to give feedback
Inviting customers to give feedback – including incentives for them to do so – can encourage people to sign up for updates, as well as generating brand loyalty and engagement, says Sharley. "Whether it's in a formal manner like quarterly surveys on the brand, or just a simple invite for them to share their feedback, it's a great way to get an understanding of what they want and tailor your lead magnets accordingly," she explains.
"

Customer feedback is a great way to understand what they want and tailor your lead magnets accordingly

"

- Emma Sharley
6. Get timely
Be flexible with your calendar. Sharley points out that recently, brands have used email to jump on lockdown announcements with offers of services and special offers. "Brands can provide immediate customer support or gratification via email – they're able to turn on campaigns really quickly that offer customers something of value, like a gift with purchase or discount, at a time when it's needed and appreciated," she says.
Sharley advises using social media to tease an offer that only email subscribers will have access to. It can be a tactical sales driver or good will, but email is the quickest way to get people to act.
Naomi Chrisoulakis is a journalist and content marketer
All references to any registered trademarks are the property of their respective owners. Afterpay does not endorse or recommend any one particular supplier and the information provided is for educational purposes only.