What this beauty start-up wants other brands to know about diversity
Founded by three women of colour, Kanvas Beauty is championing real inclusion
Anura Logan's top tips for being truly inclusive:
Practise what you preach and go beyond tokenism by ensuring everything - from language to imagery - is inclusive
Be accountable and own up when you make a mistake.
Consult with communities and get their advice if you don't know.


It started with a bad case of sunburn. In 2020, Anura Logan was working in investment banking in Hong Kong, and after going on a long hike, the sun exposure caused a rosacea flare-up on her face.
"I was looking for skincare products to treat it, but it was difficult because I couldn't find anything specifically designed to treat rosacea on Brown skin. Our needs are different to white skin and the ingredients used in Eurocentric mainstream brands aren't necessarily compatible for Brown skin types. Hydroquinine, for example, is a common hyperpigmentation treatment but it can actually trigger more uneven pigmentation on dark skin," explains Logan.
She found herself telling two friends back in Australia – Elle and Kellie – about her predicament – and it was that conversation that sparked the idea for Kanvas Beauty. "The girls had just formed a beauty website and we chatted about creating a truly inclusive beauty platform; a space for all skin colours, types and conditions, including rosacea, eczema, dermatitis, acne and psoriasis."
When Logan moved back to Melbourne from Hong Kong at the end of 2020, the three women joined forces to make Kanvas Beauty a reality, using their savings as capital and their faces as product testers.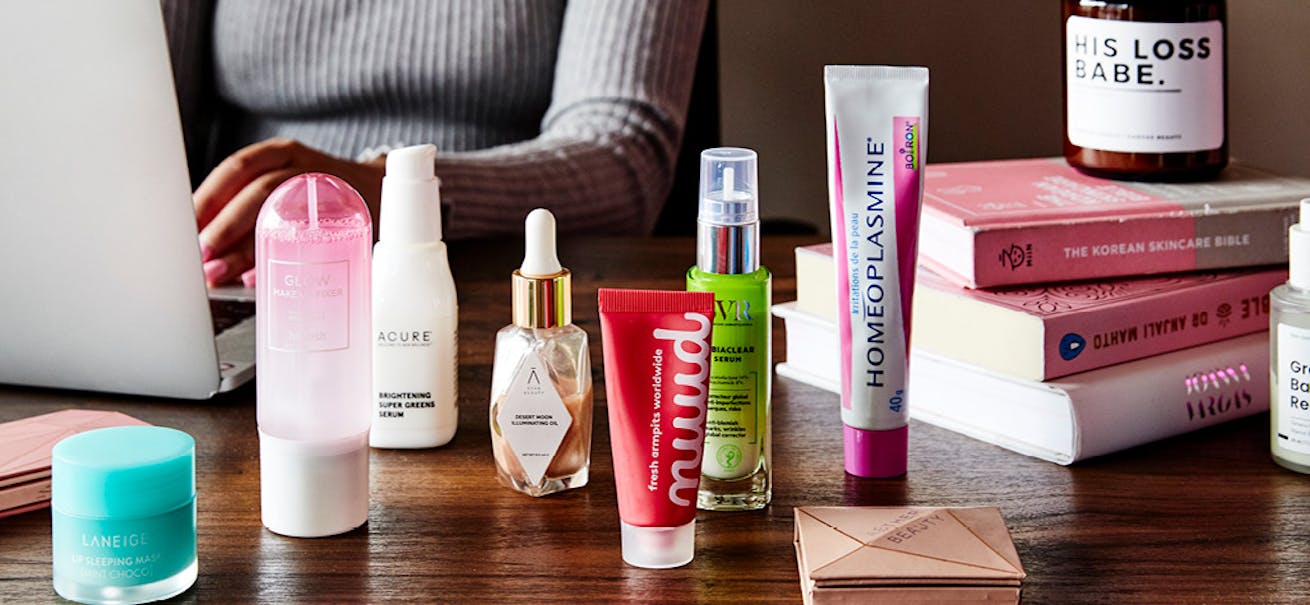 Identifying a gap in the market
With Sephora and Mecca dominating the mainstream beauty market, Logan and her business partners have focused on finding indie brands and niche products from Asia, the US and Europe. The team sources products they've personally used and loved, while also chasing down customer requests (of which they receive several every month) and keeping their finger on the pulse of what's popular in other countries by scouring social media and beauty pages.
At Kanvas Beauty the business strategy is simple: find a gap in the market and fill it. "Our speciality is global brands that aren't stocked elsewhere in Australia," explains Logan.
Black Girl Sunscreen (BGS) was the first brand Logan and her team secured to sell in Australia. "They told us they loved our shop and our goal of inclusive retailing. We're both women-of-colour (WOC)-owned businesses, so Kanvas Beauty was a good fit for their brand culture," says Logan of the cult-favourite sunscreen brand, which is one of the website's most popular sellers. "It's been a long time coming to the Australian market, so it's consistently in our top five items sold each month. Unlike other mainstream sunscreen products, BGS doesn't leave an ashy residue on darker skin tones."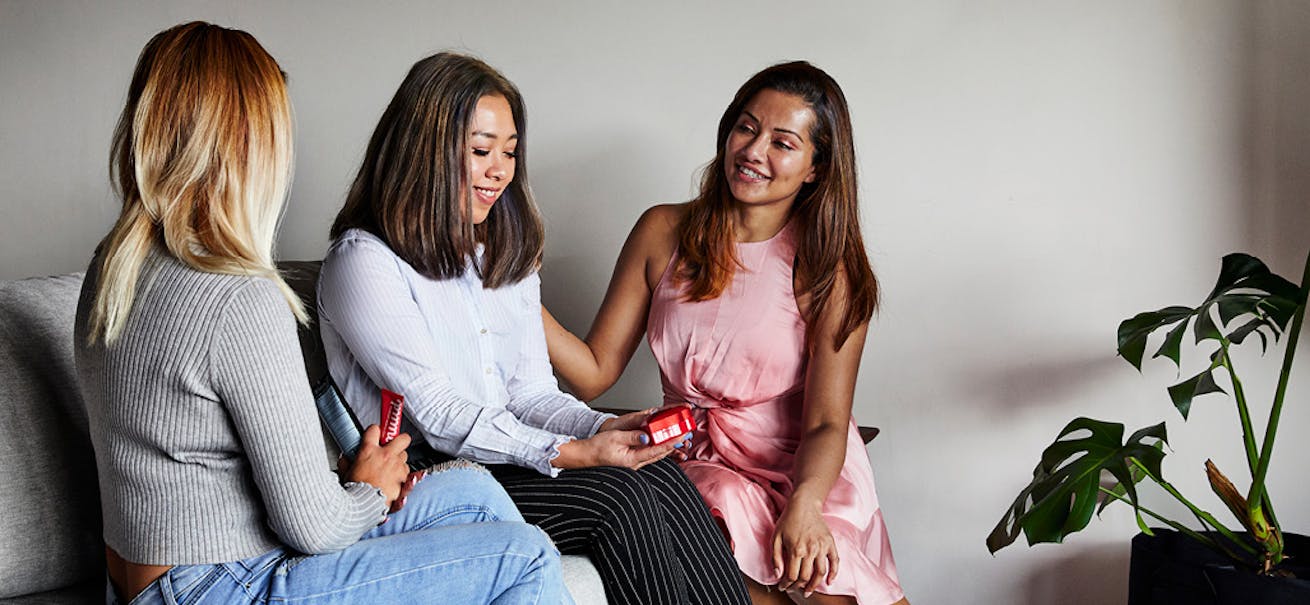 Of course, with wins there's also rejection and radio silence from brands who aren't interested in Australia as a market. "It's not always easy. We can't count the number of brands that haven't replied to us. Most of the time when brands decline, it's because the Australian market isn't a priority, they've already signed with someone else (usually one of the big houses) or they aren't licensed to ship overseas," she says.
"But we're excited about the brands we've managed to bring to Australia so far and the strong growth we've seen. Our business growth rate is in the high double digits every month and we've sold thousands of products since officially launching in December," says Logan, explaining that they have been able to offer 24-hour fulfilment because they purchase products and store them in a tiny warehouse space at one of their houses for immediate distribution.
"

It's not always easy. We can't count the number of brands that haven't replied to us.

"

- Anura Logan, co-founder Kanvas Beauty
Drawing on personal, lived experience
Having moved to Australia from India as a child, Logan knows the importance of representation. That's why the Kanvas Beauty website and social media accounts celebrate different skin types, tones and textures. It's also why the brand covers topics like body positivity, hormonal acne and feminine hygiene. "We talk about everything because that's what inclusivity means to us," explains Logan. "When someone visits Kanvas Beauty, we want them to see a part of themselves."
Ensuring their products are accessible
Partnering with Afterpay has been a critical part of Kanvas Beauty's strategy. "Afterpay makes products more accessible to a wider range of people, which is what we're all about. The difference between Afterpay and other 'buy now, pay later' platforms is that they're a bit cooler and younger. They also make a real effort when it comes to the beauty and cosmetics industry, which we appreciate."
The future is inclusive
The launch of Kanvas Beauty comes as more and more beauty brands create products for a range of skin tones. It was arguably Rihanna's Fenty Beauty – which offers foundation in 50 shades – that kickstarted the movement, but increasingly beauty brands, big and small, are offering skincare, make-up and haircare that caters to a more diverse range of ethnicities. According to data compiled by the Global Cosmetic Industry, sales of multicultural beauty products are surging at a pace that's double the conventional market.
The next phase in their inclusivity mission is bulking up the Kanvas Beauty make-up vertical in line with their skincare offering. Soon, Kanvas Beauty will launch pH information badges. "The Koreans are really fastidious about pH levels, so it's something we've been paying attention to and will be including on our website in the coming months," reveals Logan.
Then these powerhouse women plan to take on haircare, and eventually develop their own product line. "Regardless of your gender identity, race, sexuality, colour or creed, skincare is for everyone," says Logan.
"

Regardless of your gender identity, race, sexuality, colour or creed, skincare is for everyone.

"

- Anura Logan, co-founder of Kanvas Beauty
Anura Logan's top tips for being truly inclusive
Practise what you preach. "If a brand is seriously committed to embracing diversity they'll go beyond tokenism. Inclusivity is reflected in the language you use, the images you post on social media and the products you sell. For example, we don't stock any products with the word 'whitening' on their packaging in their English language advertising - or where the central function of their product is skin whitening- because we think that's a damaging message. Real inclusion requires total transparency."
Be accountable. "You can tell a brand's merit by the way they conduct themselves after a scandal. Mistakes happen – when they do, brands need to admit to them and address the issue, they shouldn't delete comments or backpedal. For example, when one of our brands, Purito, was involved in a controversy about their sunscreen (which was found to have lower SPF levels than advertised), they took accountability, admitted their mistake straight away and worked to fix it."
Consult with communities. "When we started looking into stocking haircare, we obviously wanted to cater to all hair types. Because none of us have Black hair, we reached out to Black hairdressers to get their advice and ask what they'd like to see stocked in Australia. Even if you're a person of colour yourself, you're not going to know everything about every culture, so consulting with people in the community is so important."
Alley Pascoe is a journalist whose work has appeared in marie claire, Women's Agenda and Stellar magazine. Photo: Caitlin Mills
All references to any registered trademarks are the property of their respective owners. Afterpay does not endorse or recommend any one particular supplier and the information provided is for educational purposes only.