6 smart retail sales tactics that can work at Christmas and all year round
Want to maximise sales this holiday season? You need to start now – with these sales strategies
It's that special time of the year – the holiday season – and a key time for retailers to engage and connect with new and potential customers.
The Retail Doctor Bob Phibbs predicts that there's going to be a special energy this holiday season given that "2020 was essentially a missing year for us. For most people, the last holiday they would have spent together was 2019 – it's been two years since then".
As people gear up to enjoy – and hopefully share – the holiday season, here's how to employ sales tactics that will help you stand out and drive sales.
1. Upselling
Upselling is a strategy every retailer should consider for its arsenal of sales tactics. This strategy is all about generating incremental revenue by persuading a customer to purchase a more expensive comparable product. For example, in a sports shoe store, a sales assistant might persuade a customer to buy a more expensive pair of running shoes.
How to upsell in store
Upselling in-store starts with customer rapport, says Phibbs. "You have to make a connection before you start talking about product."
"

The 'curious' is where the money is.

"

- Bob Phibbs, The Retail Doctor
Once that bond is established, the key is to understand a customer's motives. "Engage a stranger and discover the shopper," says Phibbs. "Just because customers are looking for one thing, doesn't mean there aren't other things they're interested in… the 'curious' is where the money is."
The key, he continues, is ensuring that employees understand your products and are trained to focus on value plays, rather than just getting caught up on price.
How to upsell online
One way to upsell online is to offer free shipping if customers spend more. This is a tactic ASOS employs well.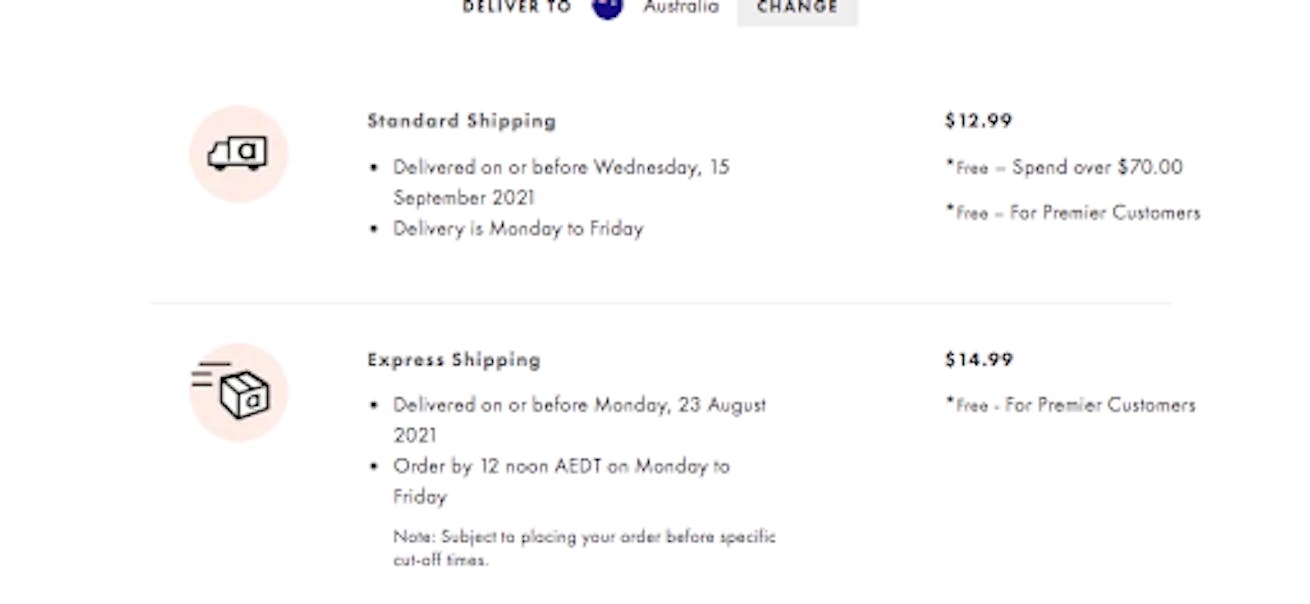 Many retailers use this strategy – because it works. Customers may well spend more to avoid paying for shipping, even if it ends up costing more than the original total price.
2. Cross-selling
Like upselling, cross-selling is all about generating incremental revenue. However, unlike upselling, where customers are encouraged to buy a more expensive version of the same product, cross-selling involves inviting customers to buy related or complementary products.
For example, at a shoe store, a sales assistant might suggest buying a couple of pairs of new running socks or a visor to go with their new shoes.
The way Phibbs sees it, "The first product you sell capitalises on what it took to get someone there – it covers the cost of your marketing, your labour… the second item is all profit."
"

The first item pays the bills, the second item is all profit

"

- Bob Phibbs, The Retail Doctor
In other words, "the first item pays the bills, the second item is the gravy".
How to cross-sell in store
As with upselling, it's crucial to establish a bond with customers first. After that, says Phibbs, "it's natural to say 'You know, it took you so long to find the right fit for you, these also come in a green and plaid' and [the customer] says 'Oh, great' – and that's the adding on."
How to cross-sell online
Online, the key to cross-selling is artificial intelligence (AI) – or using a computer algorithm to offer suggestions, such as:
'People who buy this, normally buy this'

'Related products you might like'

'Pair that skirt with this top to create this look'
Take Kóala. It's known for its mattresses in Australia – but now it has branched into furniture.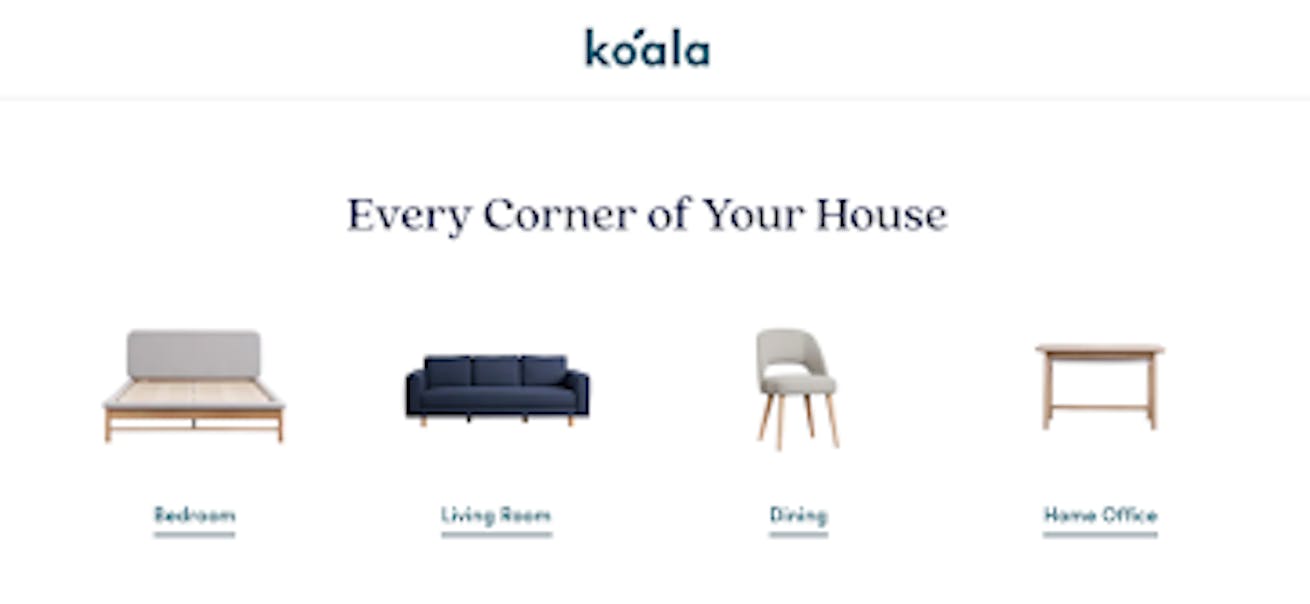 By using an 'Every corner of your house' message, it isn't overriding the original product it wants customers to purchase – its mattresses – it's encouraging customers to also consider other rooms in their home. It's cross-selling.
3. Brand Story
One of the best ways to connect with customers is by giving them a story to connect with – your brand story.
The goal of your brand story is to inspire an emotional reaction – which leads to a personal connection with customers. But your brand story isn't just a historical overview of how you came to be where you are, it's your brand's:
Purpose and mission

Values and message

Origin story

Why you sell what you do

Tone of voice
Patagonia is a great example of a brand with a clear and engaging brand story. Not only does Patagonia tell the story of how and why it was launched on its website, but its environmental values, outdoor ethos and commitment to grassroots activism are threaded throughout its stores and e-commerce store.
Lululemon is another brand that authentically communicates its brand story and "deep love of sweat". Rather than focusing on its historical "origin story", Lululemon conveys its feel-good message at every touchpoint. It's on the wall of its stores, in its inspirational imagery and on its reusable shopping bags.
While it began as a yoga brand, it has become a much-loved technical apparel brand that their customers align with for its values and purpose because they connect to the brand's story.
How can you integrate your brand story into your store and website?
Don't just think about marketing posters – consider wall decals, art, quotes, messages.

Take it beyond your logo and integrate your colours, fonts and the feel of your brand into your store design and layout.

Can you give them something to take away so they remember you?

4. Impulse buys
Impulse buys are separate to upselling and cross-selling; they are a more passive and random approach involving strategically placing products in customer's eyesight, most commonly as they're about to buy.
Holiday season is ripe for impulse buys as shoppers look for "stocking fillers", a small gift for a colleague, cards or wrapping paper. Discounted items make great impulse buys as they're attention-grabbing.
The trick to encouraging impulse buys is to make it easy for shoppers to feel, touch, hold and smell products. Phibbs recommends providing a basket, as "when the hands are full, impulse items stay on the shelves".
Beauty juggernaut Sephora makes impulse purchases a sport. Not only does the brand provide shoppers with baskets, but customers are led between two aisles of mini goodies as they line up to make a purchase. Online it employs a similar tactic by suggesting discounted items as you check out.
Similarly, there's a reason Kmart has moved its checkout counters to the middle of the store – surrounded by products.
However, the key with impulse buying is ensuring it doesn't override the customer's main purchase – impulse buys are extras, not the main event.
5. Clienteling
Clienteling is a key way for retailers to connect with their customers and make them feel valued.
It's about using customer information, preferences and behaviour to create an intimate, elevated experience for every customer.
Luxury brands and department stores are adept at clienteling; many offer services such as personal styling, in-store tailoring or monogramming, while others offer house calls or hold exclusive in-store events to show VIP customers new season collections.
However, since the pandemic, many mass labels have begun to offer clienteling services that are more traditionally associated with luxury brands. For example, Australian activewear brand Lorna Jane was one of many stores that began offering online virtual appointments during the pandemic.
6. Personalisation
Personalisation isn't just adding someone's name to your eDM; it's about using sophisticated customer relationship management tools like Klaviyo or Emarsys to track customer behaviour and deliver a personalised experience.
Brands like MECCA and Adidas do this well through their strategic membership programs. They track what customers are purchasing and what product they love so they can target the right promotions to the right customers. And, most importantly, they reward their customers accordingly – with things they know they love.
Learn more about how to get started with personalisation here.
7. In-store demonstrations
Use your physical space in a way you can't online and create memorable moments only physical spaces provide.
There is no better example of this than IKEA, which has built its entire brand on creating an experience – rather than focusing on product – by setting up each store to be an inspirational journey to your dream home.
How do customers engage with your store? Before you get started, understand how customers navigate your store – you can use technologies like floor sensors and heatmaps, or just get your team to make notes. If there is a regular section customers are drawn to, enhance it and grow it.
What would add value to their experience? Consider pop-ups that align with your brand. Gift-wrapping is always an easy and natural integration during the holiday season, but consider taking it further. Think about making your customers' lives easier or treating them.
When planning, consider:
Offering something free to draw them in – such as a free coffee or other beverage while they shop.

Creating a special 'trial' area – can they try or sample products in a way they never have before?

Sharing your expertise – could you offer 10 minutes with a personal stylist or a relevant industry expert?

Novelty personalisation – bespoke, monogrammed and personalised products are booming. Think about how you could make it work for your products.

Making it Instagrammable – the more bold and beautiful, the better.
Focus on creating an experience so good that when the customer walks away, they feel fantastic – and want to come back. Integrate your in-store demonstrations with your brand story as mentioned above (such as Lululemon offering in-store yoga classes) and you've got a winning tactic.
BONUS: Listen to Bob Phibbs' podcast interview with Afterpay's own Nick Molnar.
Isabel Sandercock-Brown is a freelance writer and copywriter
All references to any registered trademarks are the property of their respective owners. Afterpay does not endorse or recommend any one particular supplier and the information provided is for educational purposes only.