My first year in business: Richard Kuipers
The founder of national removal company Two Men And A Truck, Richard Kuipers, on how the business took off.
"I wasn't planning to start a removal company," insists Richard Kuipers. Yet fate apparently had other ideas. Two Men And A Truck has evolved from a backyard operation run from a ramshackle caravan into a national success story. Today, the business includes a network of 150 removalists with 82 trucks, and the company handles 15,000 moves a year while maintaining a 4.5-star Google rating in each state – not easy in a profession where breakages and mishaps are rife.
Here, Kuipers looks back on his accidental business empire and reveals how he engineered its dynamic growth.
I didn't wake up one morning and decide to become a removalist. But I'd moved to Australia from Holland with no money at all, got married and had three children. Suddenly, I had to take whatever I could to support them. So, 38 years ago, I started doing part-time removals.
It was never planned. My wife had bought a bookcase from the local furniture shop [owner] and I just started doing the deliveries for him. When it was a bigger job, I'd get the next-door neighbour's 14-year-old son to help out. Soon other shops started ringing and I bought a second-hand truck. Gradually, I started doing house moves, too.
It was chaotic at first and a big learning curve. I knew nothing about removals. Someone would ring me saying they had a small move and nothing heavy. When I got there, they'd have a huge snooker table and a grand piano!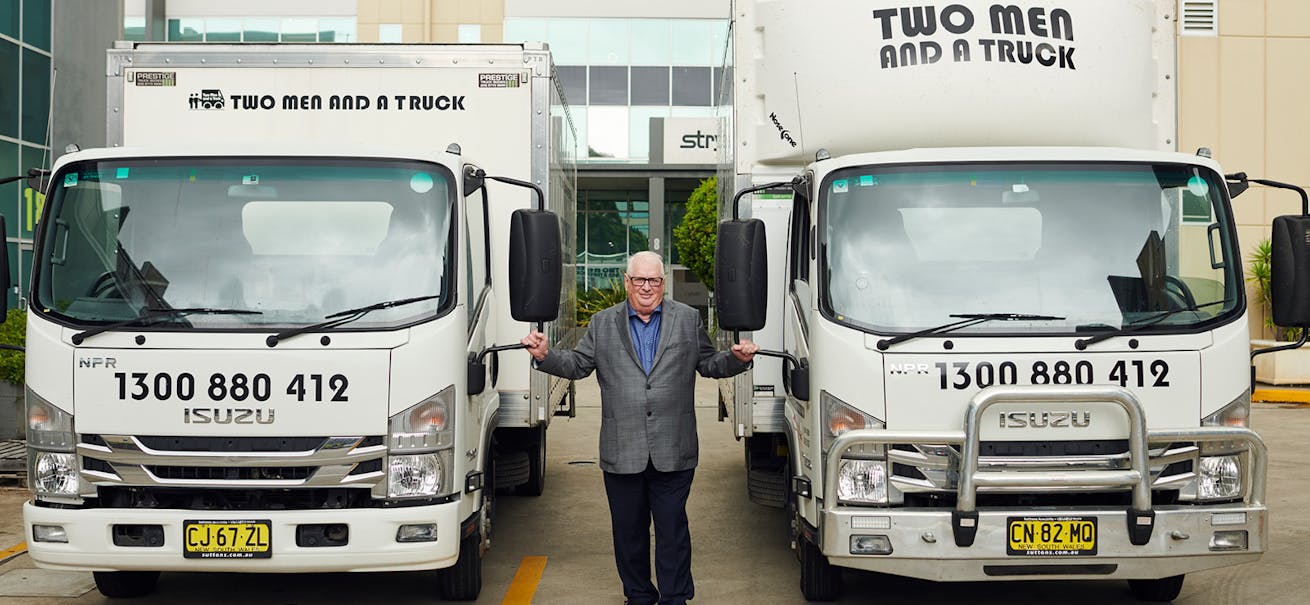 You also have to learn to become very good with people. For a short while, removalists become the meat in the sandwich in people's lives. You might have to help people move who are divorcing or going through a family dispute. You might have to deal with hoarders or an old lady moving into a nursing home who doesn't want to go.
Things were growing gradually, but then I thought, "Let's see how far we can really take this." So I changed the name to Two Men And A Truck in 1993. It's a catchy name and people know what they're getting – in fact, today it's the second most searched-for term for people looking for a removalist. Truth be told, sometimes we need more than two men for a big job, but "six men and a truck" isn't so catchy.
At first, I was running things from my lounge room and then from a caravan in the backyard. Finally, we got an office and everything slowly began to become more formalised and structured.
"

At first I was running things from my lounge room, and then from a caravan in the backyard.

"

- Richard Kuipers
The biggest challenge was always cashflow. Early on, it was a struggle to pay bills and wages. How did we get past that? We just struggled along and tried to get more work. I'd put ads in the local paper or visit furniture shops asking if they needed help with deliveries. When you can't afford to fail, you have to make a go of it.
Two Men And A Truck has turned into a family business. My daughter is now the CEO and my youngest daughter does the customer service. But working with family can get extremely tricky, so we got a professional mediator who specialises in family business management. If ever we have an issue, the mediator is informed and then helps us to decide what to do. I'd recommend a mediator to any family business.
Our 4.5 Google star rating is very important. Removals involve bringing big men into your home where all your valuables and your kids are. So trust is massive and having a good online reputation goes a long way.After every move we ask people to leave a review. If they leave great feedback then we can pass it on, and if something has gone wrong then we can learn from it and make it up to the person in some way.
Afterpay has been really helpful for us. People need removals at a time when they have a lot of expenses – they're buying a house or having to pay the bond for their rental. They might be short of cash and moving is quite expensive. Afterpay helps them to fill in the gaps on a temporary basis.
"

Afterpay has been really helpful for us. People need removals at a time when they're buying a house or having to pay the bond for their rental.

"

- Richard Kuipers
I'm 74 so I only move small pianos now – I try not to do the big ones anymore!
Richard Kuipers' three tips for business success:
Relevancy is the single most important thing. Do people really need your service or product? Will people also require it in a few years' time? While there's always demand for removals, we also make sure we have a strong presence on Google and Facebook. We work with a digital marketing agency that does all of our SEO and ad words.
Starting a business, you have to be frugal. Don't spend money on things you don't need and keep your overheads to a minimum. I never asked my bank manager for a single loan. Early on, we bootstrapped the business and reinvested all the profits. I would never buy a new car or even rent an office at first. People start a business thinking they're going to make a lot of money, but you don't. It takes a long time.
Persevere and keep on going. Don't give up! There are many, many times when I thought, "This is far too hard – it's just ridiculous." But if you've got a service that you believe in, then you just have to hang on and move forwards. Keep going! That's basically what you have to try and do, not just in work, but in life.
Luke Benedictus has spent 20 years working as a journalist, including at The Age and Men's Health, where he was editor.
All references to any registered trademarks are the property of their respective owners. Afterpay does not endorse or recommend any one particular supplier and the information provided is for educational purposes only.