How the founder of Rudie Nudie successfully mixes babies and business
And came up with a brilliant new product
They say that necessity is the mother of invention, and that's certainly true for Jacqui Pinge.
Not only was the former advertising executive's business idea – for Rudie Nudie waterproof baby playmats – born out of personal frustration, but she developed it when she was a new mother herself.
The concept first came to Pinge in 2016 when her maternal health nurse recommended nappy-free "tummy time" for her baby.
"She said it was great for babies' development," recalls Pinge. "But we soon learned that it's also very messy! I was looking for a waterproof playmat to save our carpet, but couldn't find one, so I set out to create one instead."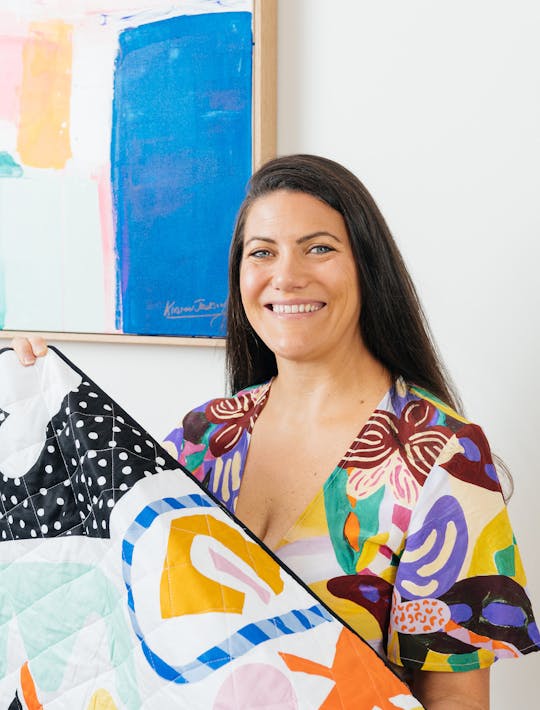 It took her two years to take her concept from dream to reality – and the bright and beautifully designed baby mats became an instant success, with the first design selling out instantly.
Since then, sales have quadrupled each year for the past two years, with Pinge selling hundreds of mats every month. This month, the business was also named one of the finalists in Afterpay's inaugural Global Mentorship Program, with judge Mark Teperson, Afterpay's chief strategy officer, describing it as "solving a real problem that exists in the market".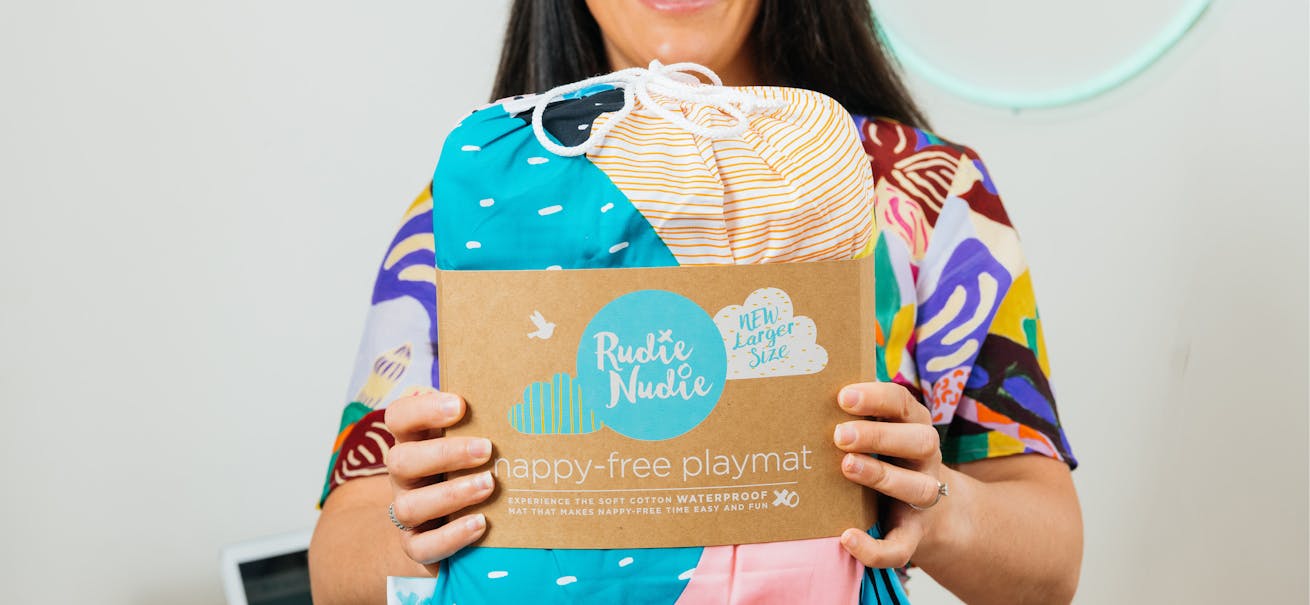 "This is a product that's actually needed, required and useful," he says. Fellow judge Paul Greenberg, the founder of DealsDirect, adds that Pinge has created a product that's "unique, and has its own branding, which is excellent. She owns the IP, she owns the channel. There's real potential there."
Pinge credits her designers, Trish Burton and Steph Croft, for the products' distinctive aesthetic (she met Burton at a children's swimming lesson). The bright patterns of the waterproof mats have also helped turn them into a must-have item for picnics and the beach, and mean they're often used as a stylish backdrop for Instagram photos.
In fact, social media has proven essential for Rudie Nudie, which has more than 27,000 followers on Instagram alone. "Social media is such an incredible opportunity to be able to build a business with," says Pinge, who has worked hard to cultivate what she describes as a "beautiful village" on Instagram . "For a very low cost, or time put into it, you can gain enormous reach to help grow your product. It makes success a real possibility for small businesses."
Pinge admits that balancing the parenting of two small children with the needs of a burgeoning business is challenging, but believes that motherhood has forced her to become more efficient. "You squish work in whenever you can, even if it's in five-minute blocks. And when you do get a block of a couple of hours, it's amazing how much work you can get done."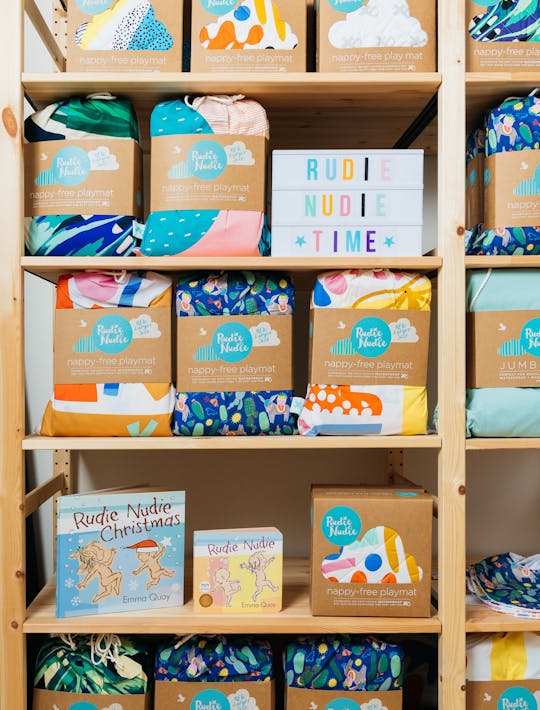 That's not to say it isn't a juggle. "I've had to lower my standards of a clean house – there just isn't enough time to do everything."
When Rudie Nudie first launched, the business consumed Pinge's life – and her home, with the products all stored in her house. "We were absolutely drowning in boxes," remembers Pinge. "We moved our children into bunks in one room, so we could have a Rudie Nudie room… we even had some in our bedroom at one stage!"
Today the business is run from a third-party warehouse, and Pinge has learned to separate herself from the business, to a degree. Like any new mother, she's realised that it's important not to hover. "At the start, I found I would be over-analysing the numbers all of the time," she recalls. "But if you step back and have a bit of faith in it all, you realise that looking at an average of a week or a month is a lot less stressful!"
In fact, that's the key piece of advice she'd impart to other businesses that may be in their infancy – you don't have to sweat the small stuff. Says Pinge: "I still like to keep an eye on the numbers, but I try not to obsess about them."
Natalie Reilly is a freelance journalist who has written for the Sydney Morning Herald, The Age and Vogue.
All references to any registered trademarks are the property of their respective owners. Afterpay does not endorse or recommend any one particular supplier and the information provided is for educational purposes only.