Meet Selfawear: the brand making a positive fashion statement
Brisbane label Selfawear is a clothing label with heart
It was a shared sense of unfulfilment and lack of purpose in life that bonded co-founders of feel-good clothing brand Selfawear Jake Bass, Kai Judd and Scott Endres, together.
The three friends - now aged in their early 20s - had recently finished high school and, like many of their peers, were working casually (Bass as a freelance photographer and Endres at Coles) or pursuing studies. The problem was, none of them knew what they wanted to do.
"So, we went to uni, didn't enjoy it, travelled, did other things, and we still felt lost about life," says Judd, with Bass noting that "instead, we found ourselves reading books on business and mental health, and that led us into getting heavily involved in personal development."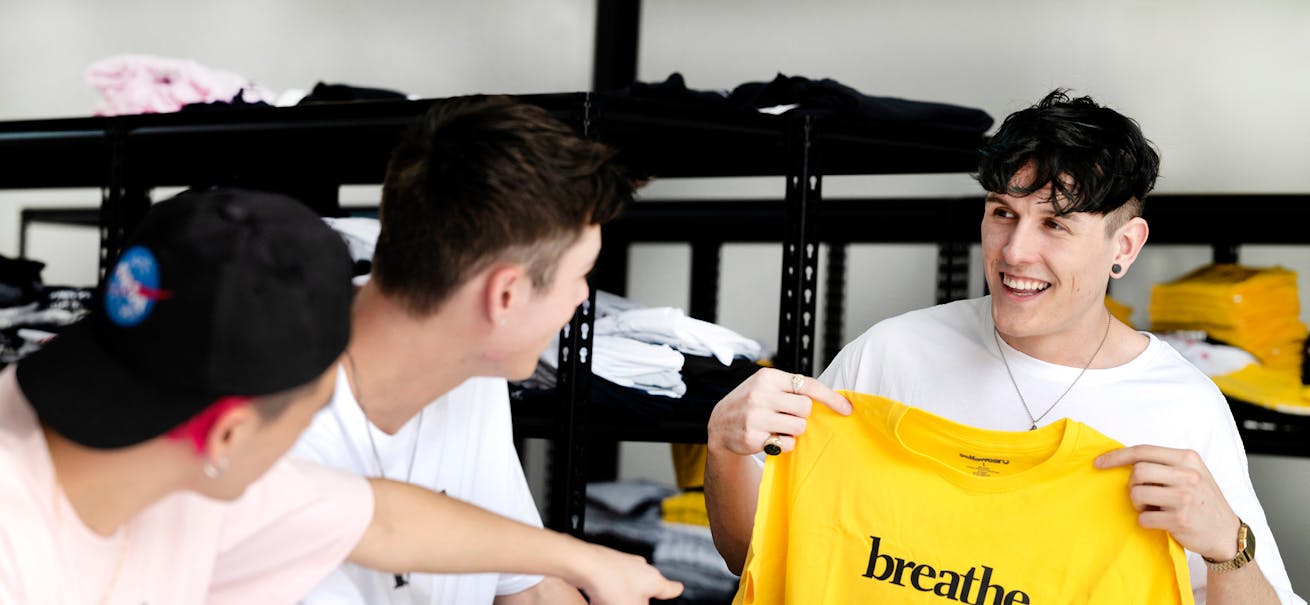 When a person close to Endres became severely depressed – and, sadly, suicidal – the trio's determination to make a difference in the realm of mental health was only strengthened.
"While this person is better now, what happened to them is part of the reason we started the brand," Endres says. "It made me realise that in our society, we barely know what people are going through due to the stigma around mental illness, no matter how close they are to you."
What they found was that far from being a fringe issue, the malaise among young people is real - and widespread. According to the World Health Organization, mental health issues make up 16 per cent of the global burden of disease and injury in people aged 10 to 19 years.
Closer to home, Beyond Blue data shows that in Australia more than 75 per cent of mental health problems occur before age 25, while one in seven young people aged 4 to 17 experience a mental health condition each year.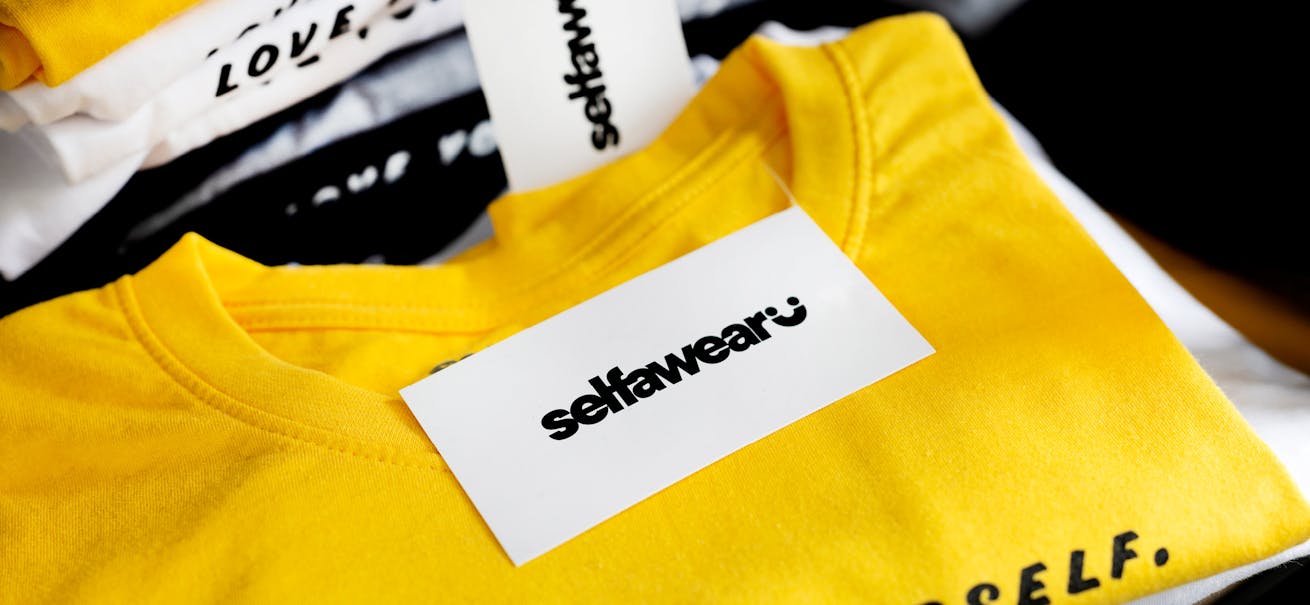 It was discovering these types of statistics that inspired the trio to launch Selfawear, a clothing and accessories retailer that aims to spread awareness about mental health – and spread a positive message about worthiness and acceptance.
"We started with clothing as, in addition to our interest, it provided us with a means to directly promote and express positive messages that are in line with Selfawear's mission," says Bass. "It also allowed us to grow and spread the message rapidly with what very little we had to start with".
After a year in which many Australians could do with a serious dose of optimism (and many people have stocked up on leisurewear) it's perhaps unsurprising that Selfawear's positive products have been flying off the shelves. Many of the pieces – which are designed in Australia and made in WRAP certified factories in Bangladesh and China - are emblazoned with slogans such as 'Be Kind', 'Breathe' and 'There Is No Planet B'.
"Seeing a positive message on a T-shirt is nice, and a conversation starter," says Judd. "So many of our customers tell us that when they wear our shirts, people are nicer to them and often start a conversation about what it means etc."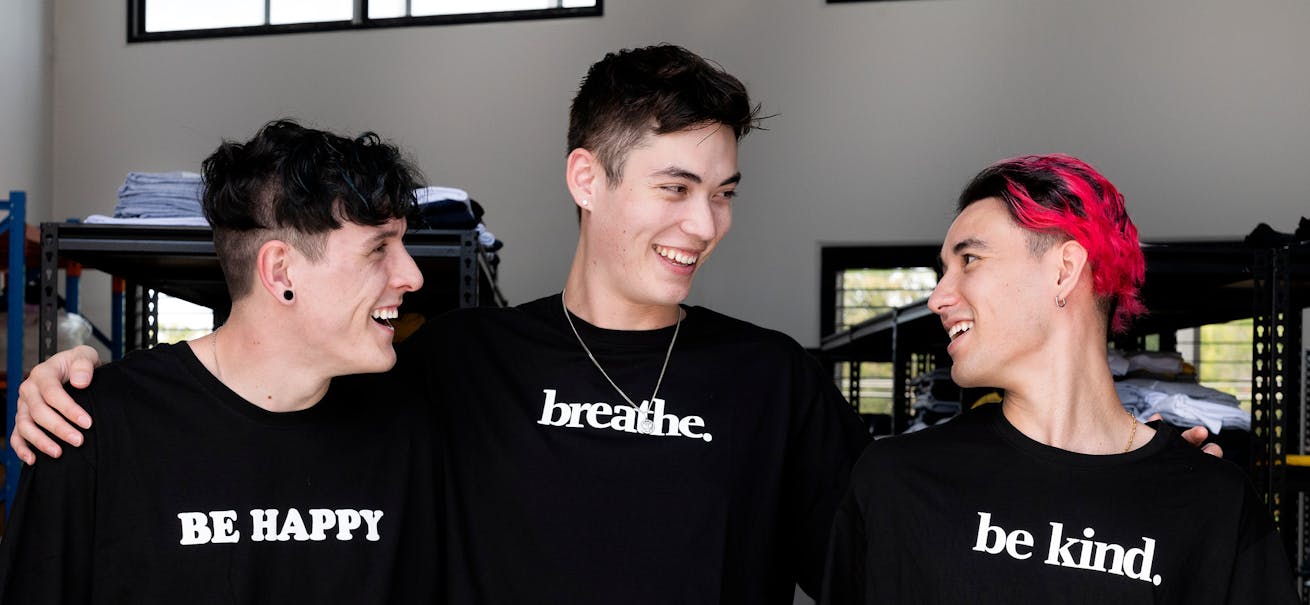 The business has sold more than 38,000 products since launching and made around $1.4m in revenue – a figure the trio says they never dreamed they would make.
At this stage the co-founders are focused on reinvesting in the business to ensure its continued growth, but have plans to donate 10 per cent of profits to mental health organisations.
This month, the business also caught the eye of Afterpay and it was named as one of the finalists in Afterpay's Global Mentoring Program, wth judge Paul Greenberg saying, "They were three of the loveliest guys. They wore their hearts on their sleeve and they're very determined, very committed."
"It's very exciting," says Endres, adding that the recognition has only further fuelled their desire to make a difference. "We really want to focus on giving back, and creating a future where people are more aware of how they feel, and more supportive of others' mental health," Endres says. "Globally, one in four people experience mental illness at least once in their life, so we want to make it cool to speak about the importance of mental health".
Caroline Zielinski is a journalist whose work has appeared in The Sydney Morning Herald, ABC, Guardian and The New Daily
All references to any registered trademarks are the property of their respective owners. Afterpay does not endorse or recommend any one particular supplier and the information provided is for educational purposes only.