How to take your bricks-and-mortar store online
Small businesses around Australia are currently grappling with enormous uncertainty. How will the pandemic affect consumer confidence? When will the spectre of lockdown restrictions completely disappear? What will the 'new normal' look like for retailers?
However, there's one thing that's certain: the pandemic has caused a boom in online shopping.
In fact, e-commerce sales were up by 23.1 per cent in the 12 months to June 2020, compared to the same period last year, according to the NAB Online Retail Sales Index.
That means that "having an effective online presence is critical right now," says Roger Simpson of The Retail Solution.
Why sell online?
Even aside from the current crisis, there are many reasons to sell online, including:
More flexibility for your customers – in Australia and globally – to shop at times that suit them

The ability to grow your brand, and deepen engagement with your audience

The opportunity to attract new customers through social media or online search

A new way to unlock insights into your customers' purchasing behaviours

The ability to capture consumers who "webroom" (browse the web before purchasing in-store) or "showroom" (look in-store then comb the web for the best deal)
5 Key Questions Before You Get Started
There are a range of platforms, from Shopify to BigCommerce, Salon Pay, Neto and Ecwid, that can guide you through a step-by-step process of setting up a site. Or, if you already have a website, and simply need additional ecommerce capabilities, there are plenty of widgets and plug-ins available.
But before you begin, there are a few important questions to ask yourself:
1. How will you price your products?
If you run a bricks-and-mortar store, then your prices are already calculated. If not, take time to do your research; consider costs, taxes, margins and competitors' pricing. Remember that if you decide to sell internationally, this will attract new taxes.
2. How will you ship your products?
You'll need to consider whether to set flat rates or price on weight-based fees. Many retailers wrap shipping costs into the total price of their products to avoid "cart abandonment", where customers change their mind about a purchase when they're faced with additional fees, like shipping, at the checkout.

To calculate costs, visit Australia Post (which offers small businesses discounts once they've posted a certain volume of packages) or a shipping tool like Shippit.
And don't forget to calculate the cost of packaging and handling.
3. What is your returns policy?
Return rates vary according to industry. However, they're generally higher in ecommerce – up to 10 to 30 per cent – than in bricks-and-mortar retail. Avoid confusion, endless emails from unhappy customers and loss of revenue by writing a clear returns policy at the outset and factoring in any associated costs into your pricing.
4. What is your Covid-19 handling policy?
Retailers must be mindful of ensuring that packaging, handling and shipping limits the spread of Covid-19, and many are publishing their hygiene policies online. It is important that workers who are packaging or handling products conform to the government's social distancing guidelines. Some couriers and postal services also offer kerbside collection.
5. How will you market your website?
Building a website without planning how you'll drive customers to it is a bit like building a shop in the middle of a field and expecting foot traffic.


However, there are a range of ways to drive traffic to your new online store.
If you run an existing bricks-and-mortar store and have loyal customers, consider how to start collecting customer data. For example, you could ask customers to provide their email addresses in order to enter a giveaway competition. Then, once your ecommerce store is live, you can notify them that you're now online. Remember to comply with relevant laws around privacy and data relating to using personal information of customers, especially for marketing purposes. Remember to also cross-promote your ecommerce store in your physical store and vice versa.
Social media is another way to drive business; you can build an organic following and use it to advertise products and specials; or you can use paid social media advertising or influencer marketing to promote your business.
Optimising your site so that your products and brand appear in searches (such as Google searches) will also ensure that customers discover your website. Most site builder websites (like Shopify) will guide you through the process and provide resources on search engine optimisation.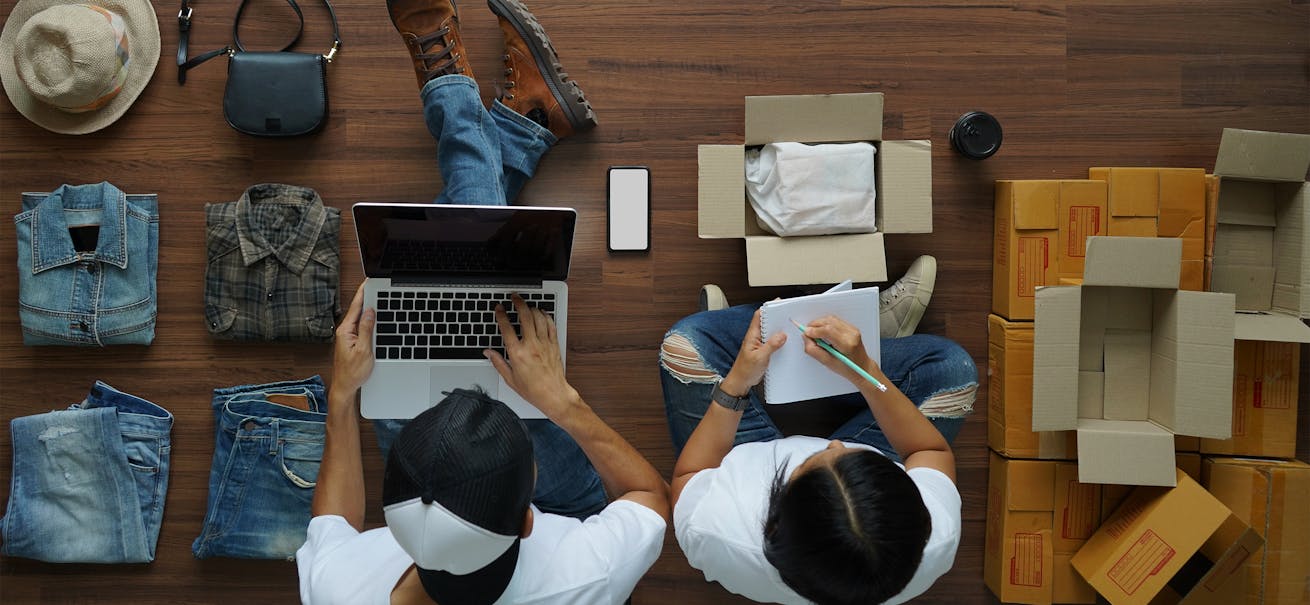 How To Build Your Site
There are a variety of ways to build a website, from teaching yourself to code (if you are short on budget but have lots of time and technical ability) to outsourcing the entire project to a creative digital agency, who will design and build a custom site, including photography (if budgets allow). Or if you're after a simpler way, most eCommerce platforms will have pre-designed themes that you can choose from!

Already have a website?
If you already have a website but it doesn't offer ecommerce, you could consider adding a plug-in such as Shopify Buy Now or Ecwid. "Most CMS platforms have the ability to add on an ecommerce portion. How easy that is varies from platform to platform. It also depends on the technical ability of the user," says Cheryl Riley of WPM Digital.
If you're lacking in confidence, unhappy with your existing site or plan to sell more than a handful of products you may be best to speak to an expert – or simply start over with a "site-builder" platform like Shopify or BigCommerce.
Choosing a platform
One of the quickest and most cost-efficient ways to build a new ecommerce website is to sign up to a platform like Shopify, Big Commerce, Neto, Salon Pay or Ecwid – all of which offer customisable templates and integrate with Afterpay.
The platform you opt for will depend on your inventory, budget and whether your site needs to integrate with a point-of-sale system in a bricks-and-mortar store.
The most popular platforms generally offer membership tiers, with pricing ranging from free plans (for limited features) to more expensive "enterprise" deals for bigger retailers.
When choosing an ecommerce platform you should consider:
Inventory size (the number of products you can display online)

Access to customer support

Integration with marketing emails and social media channels

Integration with point of sale

Mobile responsiveness (how your site appears on mobile, where a quarter of sales take place)

The ability to send emails to consumers who abandon carts

The number of staff accounts required
Once you've selected a platform, you'll need to work through the following steps:
Your domain name
Templated platforms generally offer a platform-specific domain name (like nameofyourbrand.shopify.com). To buy a custom URL or domain name (like www.yourbusiness.com.au) you'll need to visit a domain registrar like GoDaddy.com or Netregistry.com.
Your theme or aesthetic
The next step is to choose a theme or template for your site. Some ecommerce platforms offer more extensive choices when it comes to the design of your site; others will allow you to play with colour design. Ideally, your site aesthetic should reflect your bricks-and-mortar branding.
Create content
As well as catalogue pages, which display your products, most websites feature several key pages that require copy.
About
Your About page should tell the story of your business. Don't be afraid to share some personal details. "You want customers to be able to resonate with you and the brand story to be able to connect in a deeper way," says Tess Robinson, the director of creative agency Smack Bang Designs.
FAQ
This page should feature your shipping and returns policy, as well as any other information that customers are likely to require.
Contact
Don't forget to include an email, phone number and address. Not only will this allow customers to contact you if they have any problems, but an address (even if it's a PO Box) offers a sense of security and instills confidence in consumers.
Add products
The next step is to upload your inventory onto your website. You'll most likely need a spreadsheet in csv format, as well as high quality imagery.
"Photography is such a focus in ecommerce at the moment," says Robinson. "Even if you're cutting costs by using a template website I would invest in photography. It's never been easier to build a website, so there's so much choice out there [for consumers]. This means your photography needs to be high quality to stand out."
A professional photographer can light and style products in a way that reflects your brand. However, if cost is an issue there are plenty of online tutorials and apps to assist you.
Generally speaking, it's best to reduce the size of photographs as much as possible (without compromising on quality) before uploading to avoid slowing your website down. Tools like TinyPNG can help.
Consider SEO in product descriptions
In order for your products to appear in Google searches, your site needs to have strong SEO (search engine optimisation). At its most basic level, this means understanding which words or phrases people will type into Google when they're searching for your products, and ensuring that these "search terms" are on your site.
There are plenty of guides to understanding SEO, but when you're building an ecommerce site, the most important thing to remember is that your product descriptions are precise and feature the keywords that will help people find them. Most ecommerce platforms will guide you through the SEO process.
A final note
Templated platforms are designed to help you through all the steps to creating your own ecommerce site. But remember, if you get stuck, you can contact their customer support, or hire experts to help you in specific areas.
Marketing, copywriting, social media and product photography can all be contracted out for reasonable rates. These experts can be found through platforms such as Airtasker, Instagram, LinkedIn or referrals from friends and contacts.
To help you get started on setting up an ecommerce shop and selling online, we've brought together offers from our partners!
All references to any registered trademarks are the property of their respective owners. Afterpay does not endorse or recommend any one particular supplier and the information provided is for educational purposes only.