What Australians are buying right now
Afterpay's biannual trends report has uncovered the top prints, colours, silhouettes and styles Australians are currently coveting
If there was a single word that sums up fashion trends in Australia now, it might just be 'relaxed'.
Afterpay's Biannual Global Fashion & Beauty Trend Report – out this week – reveals that in the wake of COVID-19, Australians are embracing comfortable loungewear, athleisure and self-care like never before.
During August and September, Afterpay analysed data from more than 55,000 merchants around the world to compile its report, which offers a snapshot of current fashion and beauty trends – and provides clues as to what's coming next.
This year, we found that the average Australian Afterpay customer is a Millennial aged 35, and that 78 per cent of Afterpay users shop from their mobile. This is slightly less than the US (where 84 per cent of Afterpay users shop on mobile) and the UK (93 per cent).
A new relaxed mood
The top-selling products in Australia reflect the enormous impact that COVID-19 has had on our daily lives, including the shift to working from home. A Cotton On face mask topped the bestseller list, followed by a T-shirt and sweatshirt from Assembly Label (known for its laid-back but fashion-forward aesthetic), as well as leggings from Lorna Jane and a vest from Cotton On.
Skincare products from Australian label esmi Skin Minerals, Mecca Cosmetica and My Perfect Cosmetics Company also featured in the top 10.
Australia wasn't the only country embracing a relaxed aesthetic and self-care, with those trends dominating the top 10 lists in the US and UK, too.
Fashion psychologist Shakaila Forbes-Bell says it's unusual to see all three countries embracing exactly the same trends at once. "I don't think that pre-COVID, we would have seen such similar 'It lists'. Never before in our lifetime, have we experienced something which has shaped behaviour across the globe in a near-identical fashion."
"

Never before in our lifetime, have we experienced something which has shaped behaviour across the globe

"

- Shakaila Forbes-Bell, fashion psychologist
However, she cautions that even though we're craving the psychological impact of "comfort-dressing" right now, fashion's relaxed mood won't last forever.
"Humans crave novelty, so it's expected that we'll see a departure from head-to-toe athleisure looks. Think jeans with hoodies or a blazer paired with sweatpants… mixing athleisure staples in with more formal looks is expected to grow in popularity."
Prints please
Cow print – first seen on the runway at Burberry and Off-White and worn by the likes of Gigi and Bella Hadid – is among the top-selling prints in Australia right now.
Forbes-Bell says the popularity of cow print suggests that "people are embracing expressive and outlandish clothing styles as a way to have fun and escape the harsh realities of the pandemic".
"

People are embracing expressive clothing styles to have fun and escape the harsh realities of the pandemic

"

- Shakaila Forbes-Bell, fashion psychologist
Sunflower and monogram prints are also in demand, while orange, blue and grey (a loungewear staple) were among the top-selling colours in Australia.
When it comes to accessories, bucket hats remain popular. Having first appeared in international summer 2018 collections, the easy-to-wear summer hats have been embraced by a slew of local designers, from Lucy Folk to Bassike.
Craving nostalgia
It's possible that our love of bucket hats is linked to the '90s trends that re-emerged in 2012 (think slip dresses, chokers and vintage logos). "Shoppers are known to indulge in nostalgia during tumultuous times," explains Forbes-Bell.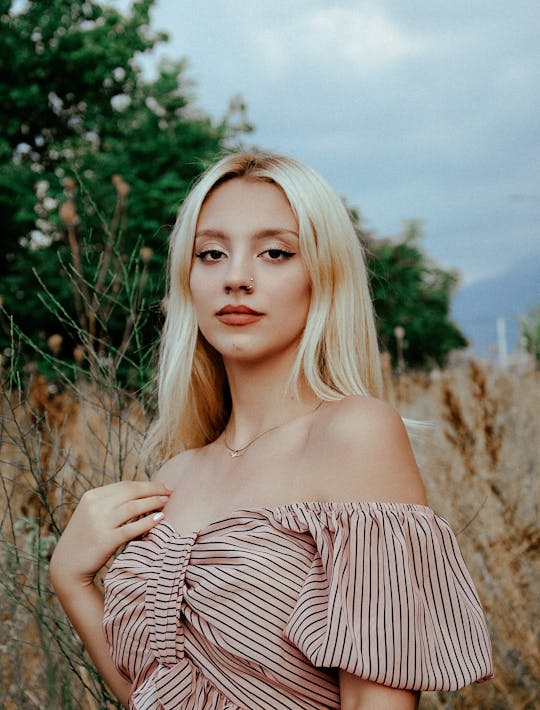 This love of nostalgia may also explain the resurgence of long-sleeved Henley T-shirts and charm bracelets, which Afterpay research found are the top purchases in Australia on Saturdays and Sundays, respectively.
What's next?
Cardigans, windbreakers, tailored blazers (or wrap jackets) and DIY patchwork are among the top trends identified in Afterpay's US and UK biannual trends reports – and many are already filtering into Australian collections.
Likewise, khaki, mint and fuchsia are among the top colours in the US, and look set to become popular here; mint and fuchsia are already on display in stores including Country Road, ZARA and H&M.
To find out more about what Australians are buying now – and what they're likely to buy next – read the full Afterpay Biannual Trend Report here.
Anna Saunders is the former executive editor of marie claire Australia, and has worked for newspapers and magazines in Sydney and London. She is the co-founder of PRIMER.