How Ultra Violette is making a splash in the sunscreen market
The Aussie sunscreen brand shaking up SPF
Sunscreen might very well be the most important step in any skincare routine, but that doesn't mean it has to be boring.
At least that's the way Ava Chandler-Matthews and Bec Jefferd see it. And given the meteoric success of the sunscreen brand they launched almost two years ago – Ultra Violette – they're clearly onto something.
"Everyone knows how important sunscreen is," says Chandler-Matthews. "But a lot of [sunscreens] are pharmacy brands and don't have much to offer beyond the basic protection elements. They weren't fun," she adds simply.
"

A lot of sunscreens don't have much to offer beyond the basic protection elements.

"

- Ava Chandler-Matthews
The Melbourne pair met while working in product development and marketing at Mecca, and spotted a gap in the market for sunscreens that sat easily under make-up.
Since launching Ultra Violette at the beginning of 2019, the brand has been picked up by Sephora, Adore Beauty and The ICONIC, as well as JOYCE and Lane Crawford in Hong Kong. Next year, it will be stocked on Net-A-Porter. "Over the last quarter, our growth on the year before is 450 per cent," says Jefferd.
The brand's success owes much to its lightweight, serum-like formulas. "We wanted different formulas that worked nicely with the rest of your routine," explains Chandler-Matthews.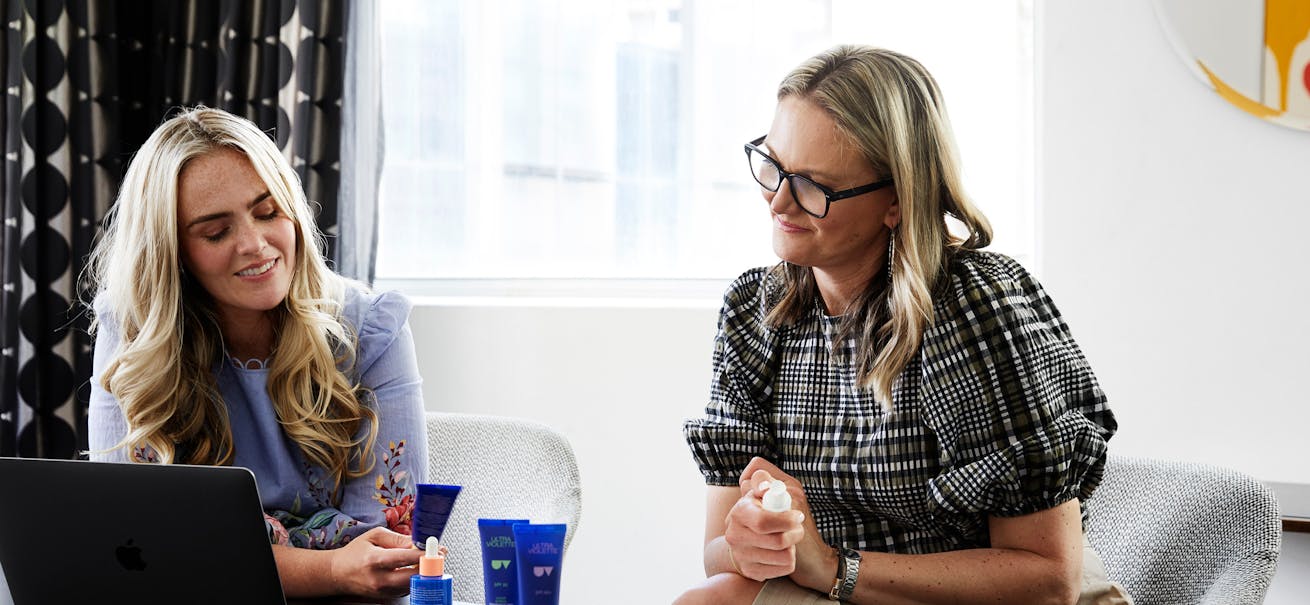 And they wanted to make SPF sexy. Having spent years working in the beauty industry – Chandler-Matthews in beauty brand and communications strategy and Jefferd at L'Oreal, before both landing at Mecca – the pair understood the value of "handbag-worthy" brands that generate hype and high demand.
"So, it became how do we make something utilitarian – you have to wear sunscreen – and make it so that you want to wear it? We had to solve those formula pain points associated with sunscreens, like white cast, [feeling] too greasy, pilling under make-up, while also having a brand you wanted to wear and were proud to show off."
Next, Chandler-Matthews tapped a friend to do the packaging design. "Finding someone who had done product design was important, because it's all well and good to come up with a logo, but you need to think about how that works on a tube or bottle," she explains.
They decided on vibrant packaging – the opposite of the current trend toward monochrome or millennial pink, and what's usually seen in the sunscreen market, which is awash in blue (water) and yellow (sun). The pair wanted to put their own spin on that and stand out in the market, "so we went with an Yves Klein blue and pastel neons, a nod to the zinc sticks that our parents put on us when we were kids", she says.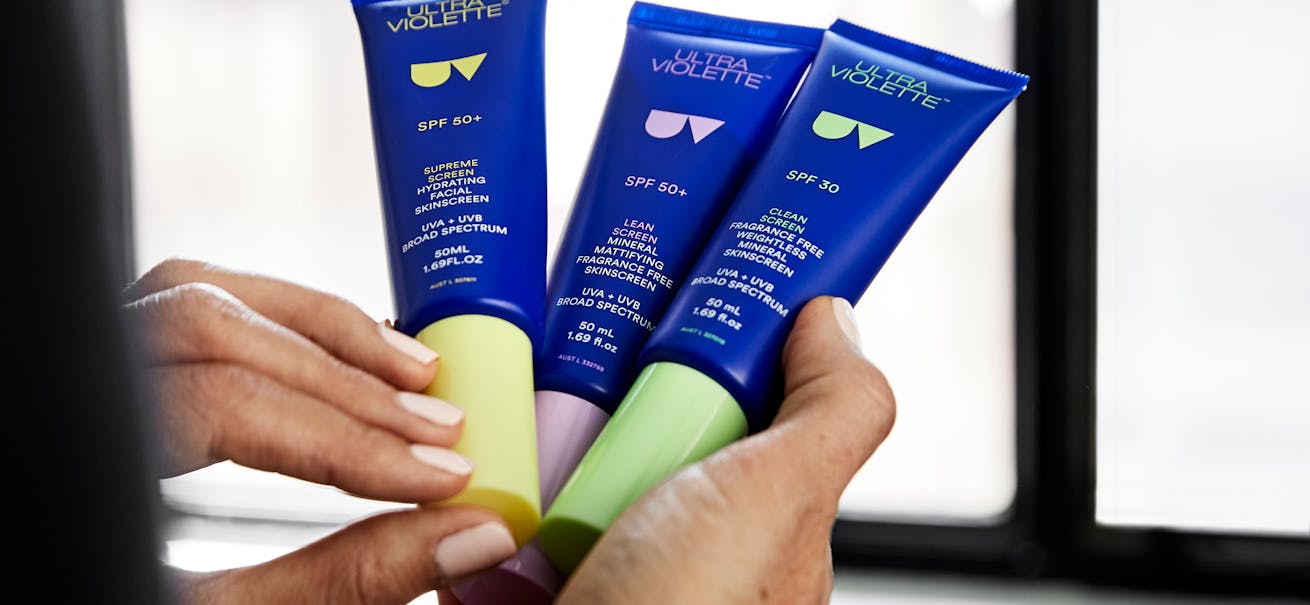 They self-funded – a combination of personal savings, mortgages, and family investment – and officially launched Ultra Violette in January 2019, relying on word-of-mouth and feedback from the vast network of contacts they had built up over their years in the local beauty business.
For the first year, they took care of social media in-house and employed someone to handle Facebook advertising. ("It's quite technical and we thought that was something we should throw money at rather than invest time that we didn't have," says Chandler-Matthews.) And they have only recently started investing in influencers. Today, the company employs four staff, one full-time and three part-time.
The brand is constantly listening to consumer feedback and tweaking formulas. "It's one of the reasons we wanted to go direct to consumers, so we could listen carefully to what people wanted and not have to wait and go through a retailer, or hear about it through ratings and reviews," explains Jefferd.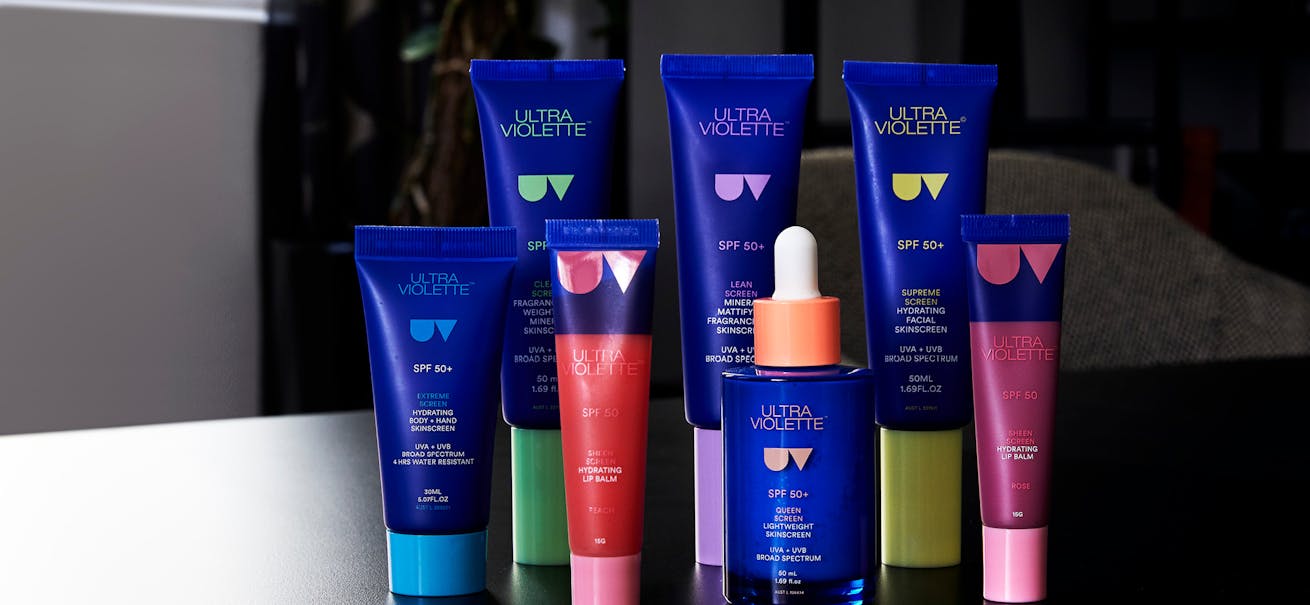 Early on, the pair found themselves in the enviable position of being approached by vendors eager to stock Ultra Violette, meaning they never had to pitch to their current retailers.
Although the brand is in talks with major retailers in South-East Asia and the UK, the US is not a priority. "Our formulations are not compliant there yet, because they're so far behind and haven't approved filters since the 1980s – that's why I tell people never wear an American sunscreen because their high SPF numbers mean nothing," says Chandler-Matthews. "Australian-made sunscreens are some of the best in the world and have to conform to a higher standard."
Bec Jefferd and Ava Chandler-Matthews' on entrepreneurship: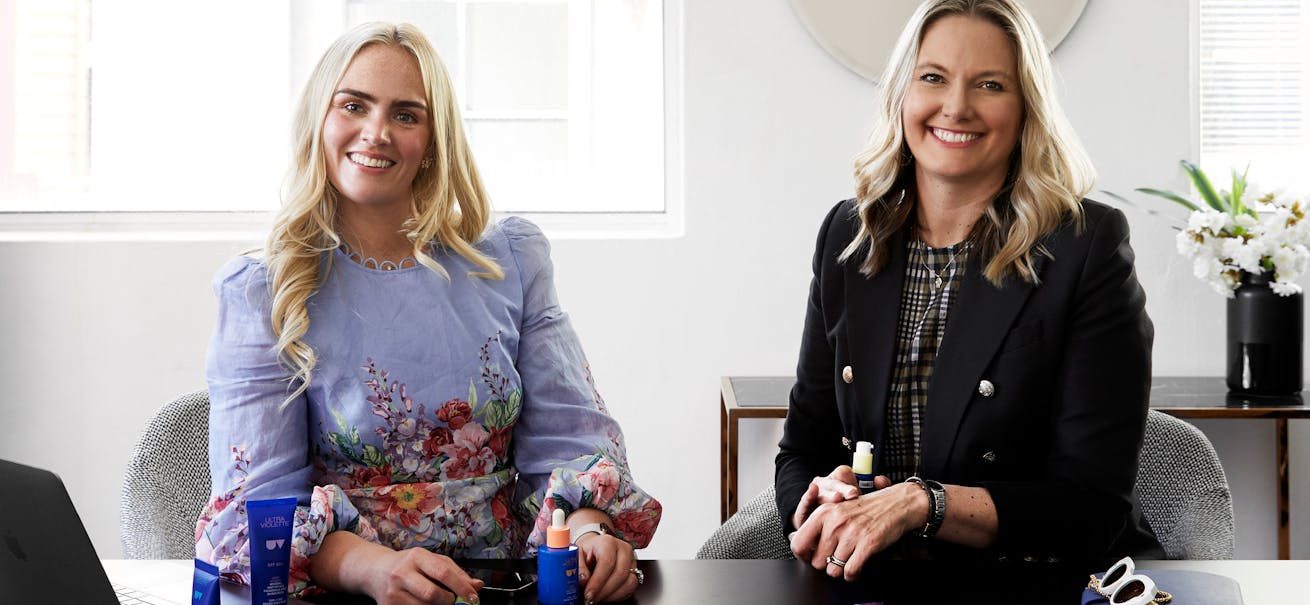 Be aware of your unit economics. Understand your profit margin before you start selling anything. Try to have a good estimation of your operating expenses; it's hard to predict these things before you get going, but it's important so you know if you've got a business that sustains itself.
Spend time on your business plan, especially if there are other people involved. This can help clear up some of the bigger issues upfront. What is the gap you're filling? What are your values? What is your positioning and tone? How much money are you going to need to get there? Are you happy to salary sacrifice and not earn money for half a year? We spent six months doing a deck [summary of a business plan] before we launched, and we still refer back to that document.
Just get going. There are so many people who say, "I have an idea, but…" Go for it. Be sensible, do your plan, but just do it.
Sherine Youssef is a journalist and the co-founder of gloss etc. She was previously a beauty director at marie claire Australia and has written for Stellar and Vogue Brides. Photos: Caitlin Mills
All references to any registered trademarks are the property of their respective owners. Afterpay does not endorse or recommend any one particular supplier and the information provided is for educational purposes only.